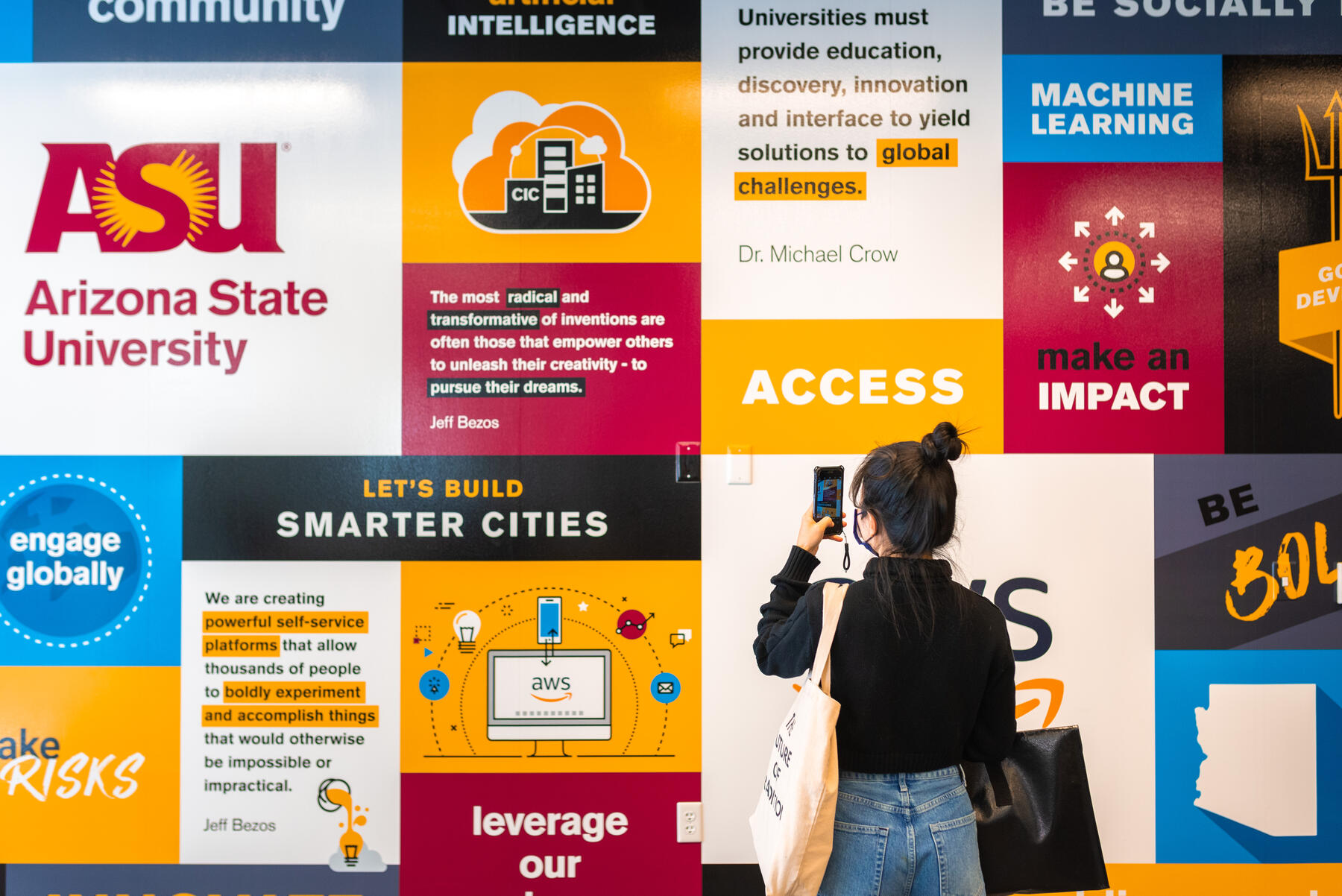 Enterprise Technology releases nine strategic priorities for 2023
As Arizona State University's IT department, Enterprise Technology is responsible for the digital experience that drives how our communities learn, work and thrive. To ensure that Enterprise Technology is committed to that promise, we develop an innovative strategic priority approach each year that helps guide our work and create a benchmark for success.
View the nine strategic priorities
Focused on designing and delivering an exceptional human-centered technology experience, while supporting the ASU Enterprises, Enterprise Technology shares the following strategic priorities and objectives for 2023.
Paving the way for learner success
Everything Enterprise Technology does is centered around the learner – with intent and purpose.
Student Success and Learning Initiatives: Design and deliver technologies, services and environments that enable learners to thrive academically.
Learning Innovation: Enhance the creative and digital fluency of all learners in next-generation learning environments. 
Digital Trust and Cybersecurity: Support learner agency, data empowerment, and Privacy by Design, while proactively identifying and protecting the ASU community from cyber risks. 
Service Alignment: Optimize how ASU designs, delivers, and supports technical services across all learners, faculty, researchers and staff. 
Digital Infrastructure: Ensure all learners are able to connect with each other and available ASU resources to learn, work and thrive.
Striving for excellence within Enterprise Technology and the broader communities we serve:
At ASU, we are dedicated to advancement and innovation when it comes to creating better futures. Explore how Enterprise Technology plans to do so amongst our teams and beyond.
Culture, Communications and Talent: Foster a collaborative and cohesive environment that enables a sense of belonging to attract, develop and retain new and existing talent in support of ASU and the communities that Enterprise Technology serves. 
Capacity to Advance Business Agility and Outcomes: Partner to advance Enterprise Technology governance and alignment and craft a financial planning process that identifies Enterprise level spending, creates allocations for Enterprise initiatives and empowers unit-level decision-making to bolster capacity and reduce costs. 
Advance Research: Partner with Knowledge Enterprise on advancing the Enterprise research service model for firewall, data center, cybersecurity and network management. 
Digital Equity: Without negatively impacting ASU operations, design and support digital equity ecosystems that address the complexities of vulnerability and create equitable opportunity for everyone to fully participate and thrive in society, democracy and the economy. 
These descriptions are just a glance at the nine strategic priorities that have been developed for 2023.