ASU's Lev Gonick named Arizona CIO of the Year
On Friday, April 28, Arizona State University's chief information officer (CIO) Lev Gonick was named the 2023 Arizona CIO of the Year as part of the 2023 Arizona ORBIE Awards. The annual event honors the most innovative and transformative technology leaders in the state.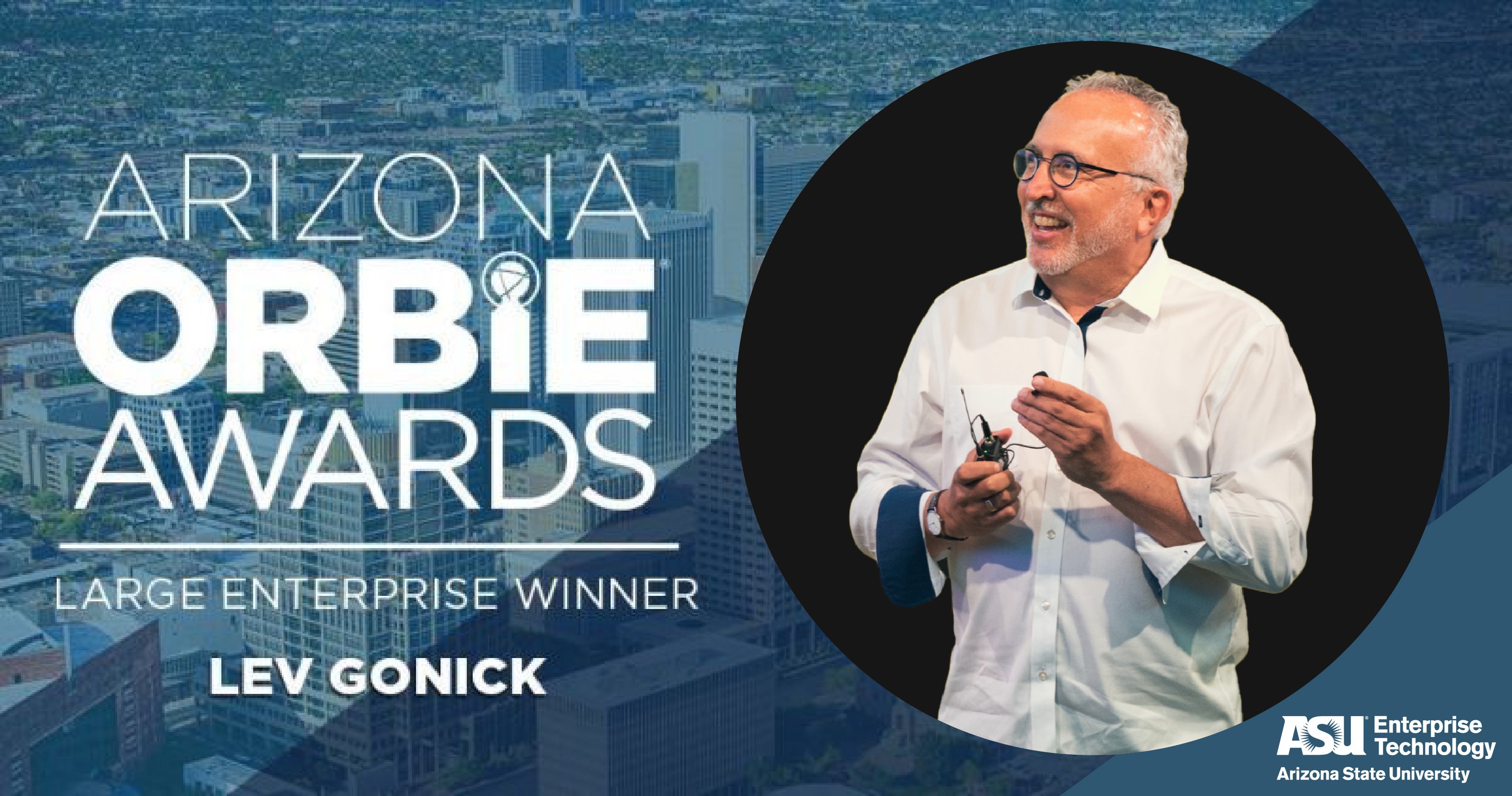 In his role as CIO, Lev leads ASU's Enterprise Technology – a team of 900+ people dedicated to the advancement of the digital ecosystem for the most innovative university. 
Under Lev's stewardship, Enterprise Technology has been recognized for initiatives dedicated to helping the ASU community thrive. Such projects include Digital Backpack, a collection of learning tools for students, and Learning Futures, a living laboratory for students to experiment with emerging immersive technology. 
"Lev has revolutionized ASU's technology enterprise to keep us moving forward, no matter the challenge," shares ASU President Michael M. Crow. "He's a driver of our culture of innovation."
With a deep commitment to living out ASU's charter — which measures who it includes and how they succeed, as well as social embeddedness – teams at Enterprise Technology recently received a $34.6 million grant to increase broadband access to 20,000 households and 150 community anchor institutions in Maricopa County — an initiative fueled by Lev's aspirations.
"Lev has been able to exceed his goal of evolving ASU's technology organization to better address community needs," shared Chris Howard, executive vice president and chief operating officer of ASU Public Enterprise, in his official letter of support for the ORBIE.
With technology now essential to living and working in the 21st century, Lev's vision for expanding digital access and equity at scale is fundamentally human centered. Whether connecting student employees with career opportunities or developing the Technical Upskilling Program to help people break into IT careers, Lev's aim is to use technology and digital connection to bridge the digital divide and improve quality of life for communities everywhere. 
A lifelong technology advocate
Lev's vision for a fully connected digital world began long before he came to ASU. In 1992, he took internet equipment to Zimbabwe to increase social and economic impact through internet connectivity. He then co-founded and was the CEO of Digital C, an award-winning nonprofit organization dedicated to innovating technology for the public good. 
From 2001-2013, he served as the CIO at Case Western Reserve University. While there, he created the Case Connection Zone, a project that later led to other connectivity initiatives, such as US Ignite and Gig.U. Lev also joined the board of advisors for the Coalition for Local Internet Choice, a position in which he still serves today.
At ASU, he co-founded ShapingEDU, a global community of education and innovation enthusiasts devoted to using technology to improve learning in the digital age, and T4 Leadership Academy, which aims to help professionals evolve into adaptable, resilient and socially-minded leaders skilled in empowering others. 
With digital learning being a top priority, Lev also co-founded Learning Experience, which provides workshops and technical resources that enhance teaching and learning for faculty and students across the university. Under Lev's stewardship has been the launch of the Trusted Learner Network and ASU Pocket, which are products being designed and developed by teams at Enterprise Technology to advance the use of modern, digital credentials for learners everywhere. 
A history of recognition
Lev's latest accolade as 2023 Arizona CIO of the Year adds to a history of recognition across the field. In 2022, EdScoop honored Lev in its "50 Awards," which honors influential higher education leaders. Before that, in 2015, Inside Business Magazine added him to the Power 100 list, while in 2011 Government Technology called him a "Top 25 Doer, Dreamer & Driver in Public-Sector Innovation." 
Crain's Business Cleveland named him one of its "10 Difference Makers" and Broadband Properties gave him the Cornerstone Award for "using fiber to build an inclusive society and empower individuals." Lev has also been named "Visionary of the Year" by NATOA, a Premier 100 IT leader by Computer World, and a CIO 100 by CIO magazine. 
"I am continually guided by ASU's charter of inclusion — our North Star — to bring opportunity to our local and global communities through the power of technology," said Lev. "There is so much more for us to accomplish, and I know we'll go further and faster through strategic collaboration."
By Jennifer Moore and Samantha Becker