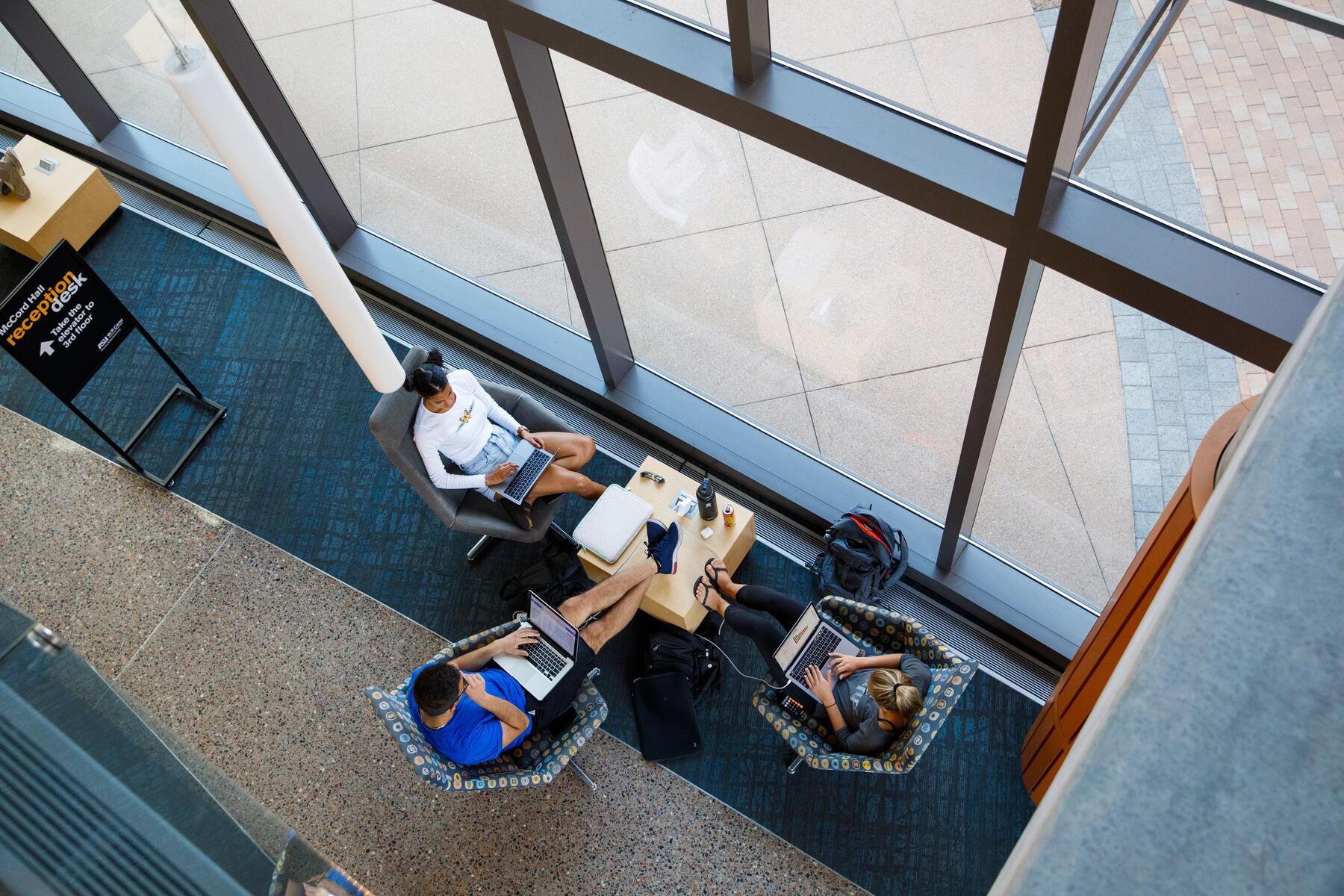 ASU partnership fuels three times the innovation
Entering college can be an exciting, yet overwhelming, experience. For many, they find themselves in a new city, new home and new community when embarking on their college journey. 
That's why welcoming new students to the ASU community is a priority of the university. When Nyeedra Blackelk Noel, a senior majoring in management, began her learning experience at ASU nearly four years ago, she was stepping into a new environment that required some guidance. Personalized and automated communication reaches ASU's expansive group of incoming learners, like Noel, while operating at a large scale.
One such popular development in online communication is the proliferation of chatbots. Chatbots are automated messaging tools that impart information and learn from their interactions with human users.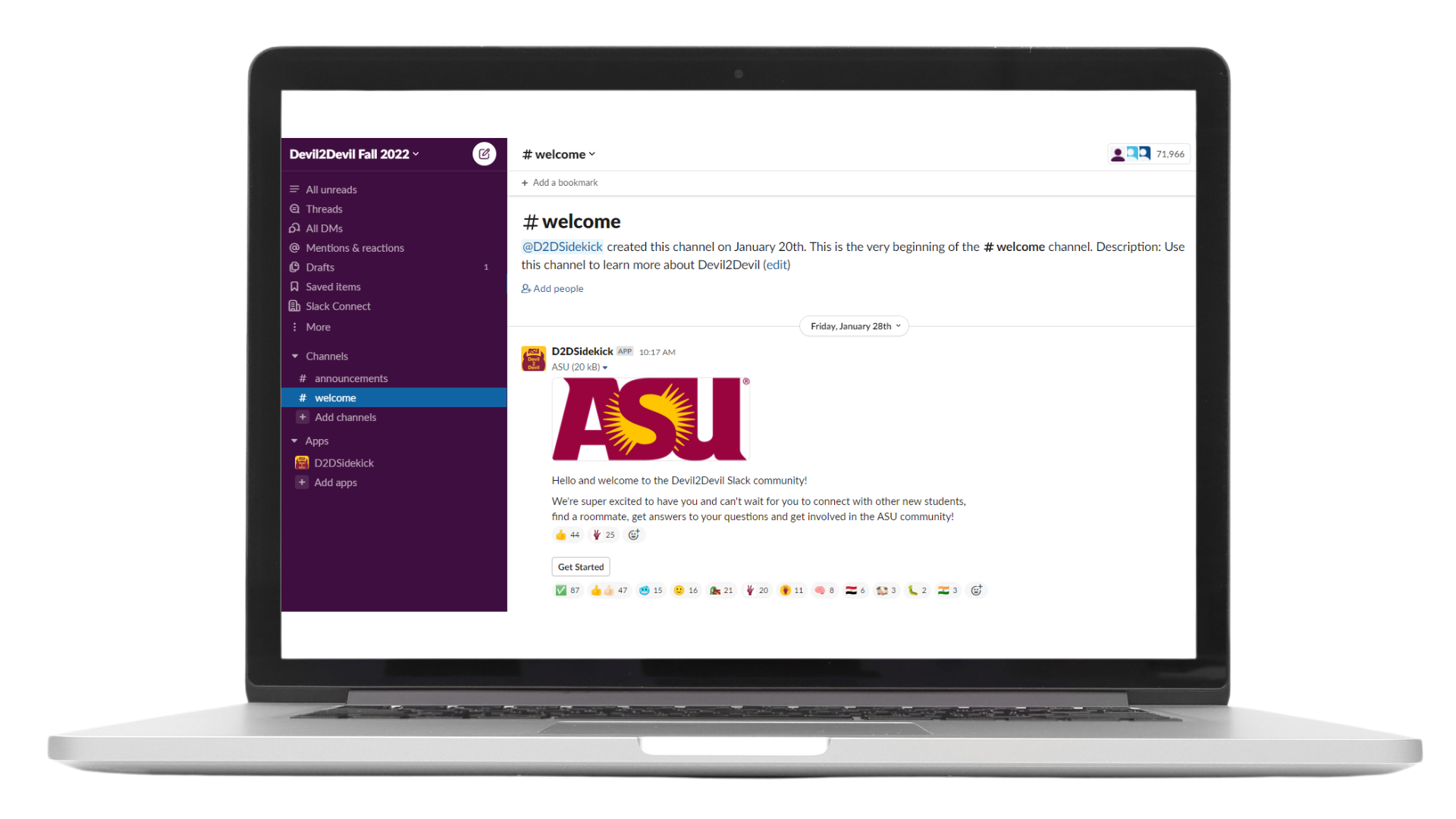 To leverage the possibilities of automation and enrich the conversations taking place across the university, UTO teamed up with Robots & Pencils (serving as a software development partner) and Slack (a real-time collaboration tool available to all Sun Devils) to create chatbots that serve student success.
The result? This powerhouse partnership offers three times the innovation to enhance the student experience, technology development and ASU's ability to scale accessible communication technology.
#1 -

Enhancing the student experience: Building community and supporting success
The partnership, which has yielded two chatbots already in use via ASU's Slack workspace and two more in production, prioritizes student success across all the projects. The Slack integration developed for Devil2Devil, ASU's network for incoming and enrolled students, illustrates tech innovation that supports student success. It existed in various iterations since 2011, but in February 2020, it moved fully to Slack.
The framework of the Devil2Devil network is to help incoming students feel welcome to the ASU community. It also provides opportunities to find friends, look for roommates, ask questions, and get information about enrollment steps and other processes. An introductory chatbot in Slack gives incoming students the information needed to operate within the tool. Then, it provides a path to the communities they'd find most valuable; for example, peers in the same college or major.
"When I joined Devil2Devil, I was able to meet other future students from all over, and it made it easier to talk about my college decision because everyone was going through the same thing," said Noel.
UTO engineers worked alongside Robots & Pencils to create these automated processes that connect enrolled students online. This streamlines the recreation of a community in Slack, fostering deeper affiliation and belonging. 
As Nate Wilken, Co-Director of UTO's Engineering Core, explained, UTO paired Robots & Pencils developers with ASU engineers to facilitate deployment and delivery of the chatbot. "With outside partners, we can be more agile," said Wilken. He explained that the strengths of different teams can be integrated and work can be passed off to make a strong product quickly.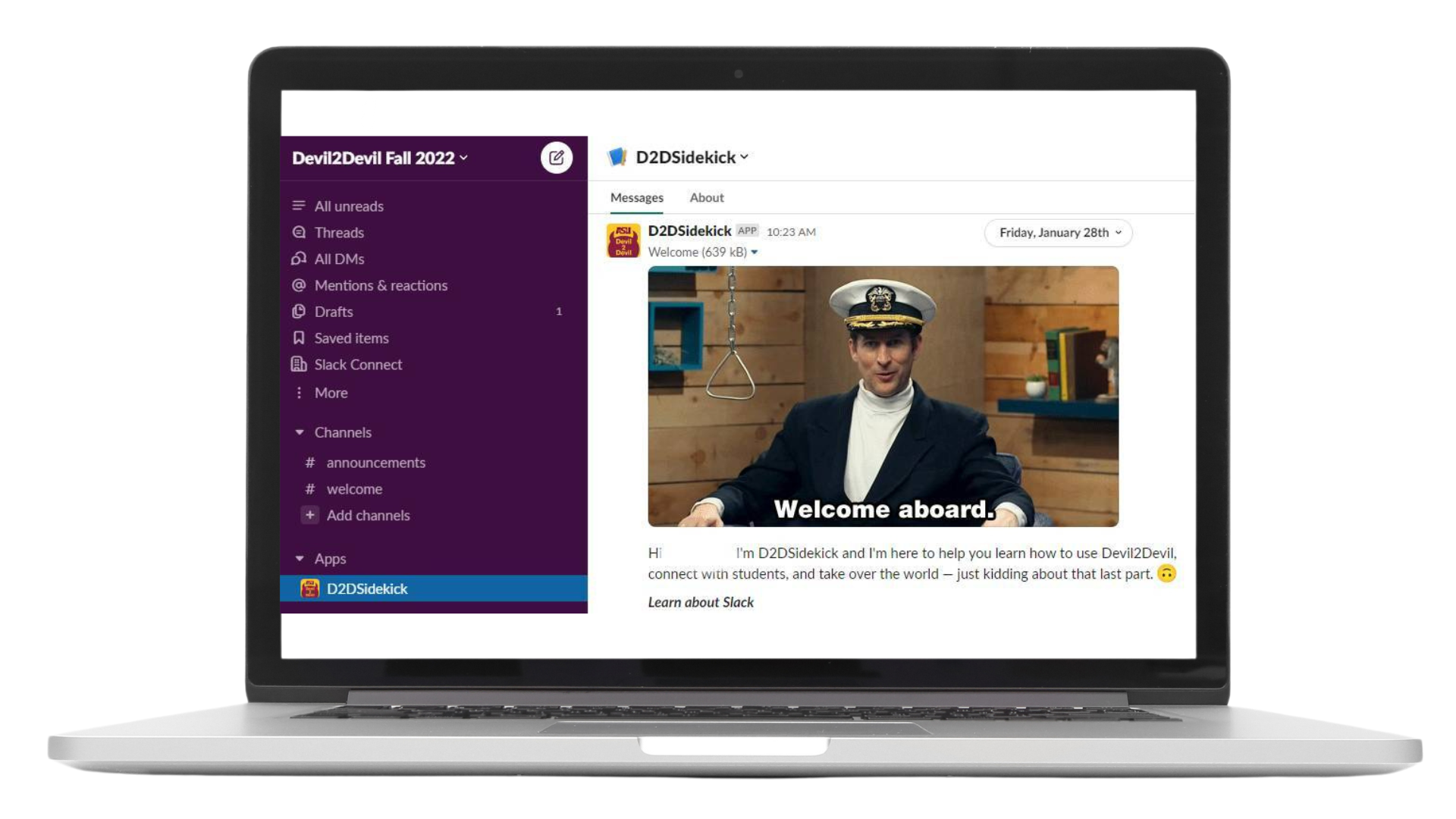 "The whole point of Devil2Devil is to connect students and make them feel like they're not alone," said Devil2Devil Manager Casey Thomas. The introductory bot can provide immediate support to those who've recently enrolled at ASU.
#2 - Innovating the technology: Developing chat moderation
A key aspect of automated processes in communication is the integration of new language and knowledge. When it comes to online communities, it's also important to moderate spaces to ensure there aren't abusive or malicious conversations taking place. 
So when it comes to Devil2Devil, the UTO, Robots & Pencils and Slack partnership developed a "flagbot" to mark and mitigate harmful language in the network. After a report of such verbiage, an automated display of the issue gets sent to Devil2Devil moderators.
This automated process is able to scale itself to the more than 12,000 students connecting through Devil2Devil for the upcoming Fall 2022 semester alone. In partnership with Slack's ability to alert moderators to potentially harmful words and phrases, the flagbot interface allows them to quickly and effectively respond to statements that could make someone uncomfortable. Together, they're crucial in maintaining a positive community for incoming and enrolled students to interact.
#3 - Innovation at scale: Upping university capabilities
Whether it's the flagbot or other chatbot features, Wilken explains that ASU continuously wants to raise the bar and innovate at scale. "If the bot flags something, somebody can review, so that's about scale," and gives relief to staff who would have to do every part of the process manually.
There are other examples of UTO and ASU striving to elevate possibilities to support their large and diverse community. ASU Online Success Coaches already work diligently to support the students earning their degree through online asynchronous modalities. A Slack chatbot that can introduce ASU Online students to the Success Coach system is now in development. This chatbot will be able to make connections to a student's personal representative and provide an immediate through-line to support.
The chatbot is being designed to accelerate the introduction process and make it even easier for students to find their Success Coaches and get the help and information they need. The automated process keeps them engaged with a low-stress environment and can be applied to the more than 55,000 students that make up ASU Online. "This feature helps scale the community building in the Success Coach space and connect students with communities of interest," said Nate Corwin, UTO Director IT Service Transformation. 
Three partners, three times the innovation
From Devil2Devil to Success Coach support, the products of this innovative partnership illustrate the priorities of student success, technical development and power of scalability.
"We're using chatbots for personalization," said Thomas, and that ranges from Devil2Devil to other automated processes at ASU. "We want students to feel engaged and that ASU, as large as it is, personally cares about them and their enrollment process." Chatbots are just one way to augment the human experience our teams provide for incoming students.
"Devil2Devil helped me join groups before even attending ASU and make friends who were living in my same residential hall," said Noel, citing the automated frameworks provided by the Slack space as convenient introductions to a community.
And more bots are in the works. The ASU Experience Center (EC) leverages a financial aid chatbot to get students answers to their questions even faster, and an expansion to all EC services, such as technical support, is on the way. A "coursebot" developed by a small in-house team at Slack and implemented with the input of ASU brings students into the appropriate Slack workspace right out of Canvas, the university's learning management system. Its eventual integration also embodies the collaboration that the three partners have demonstrated with agile workflows and handoffs.