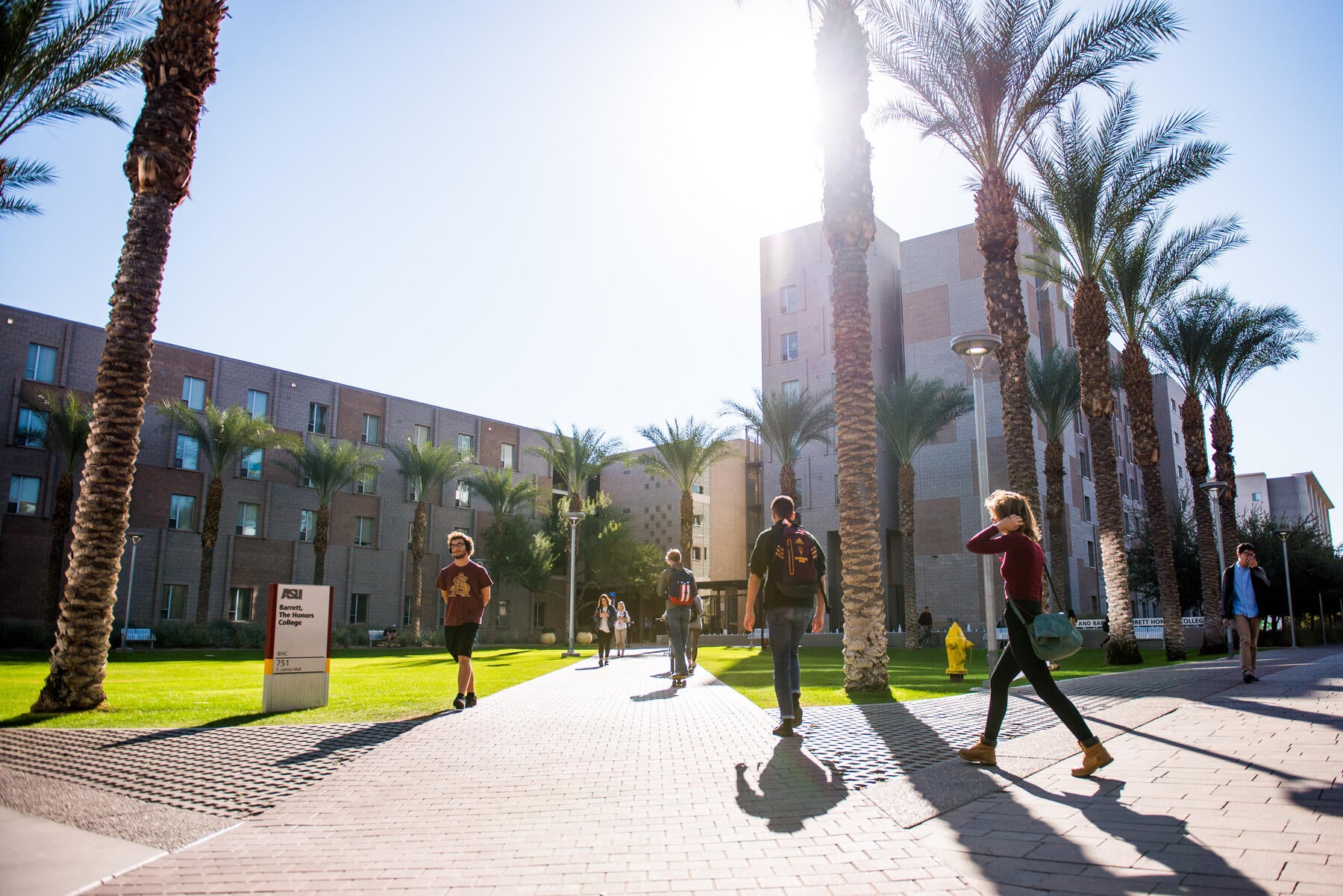 ASU explores new ways to scale smart campus initiatives
When crossing the street at Arizona State University's campus, you may have noticed blue light poles placed along the sidewalks. While these poles primarily function as emergency call boxes for faculty and students, they also offer strategic positioning for smart technology. 
Smart technology refers to self-monitoring, analysis and reporting technology (SMART). And today, this type of technology is highly integrated into our everyday lives — think of a smart doorbell, smartphone or even your Amazon Alexa. 
Emergency blue light poles fitted with smart devices
On ASU's Tempe campus, three of the emergency blue light poles are fitted with smart devices — connected across the Internet of Things (IoT), including sunlight sensors, temperature sensors, carbon dioxide detectors and particulate counters.
In a collaborative workshop with ASU research faculty across various fields and disciplines came together to evaluate how the data captured by the sensors could be used. One example that surfaced was combining the data from the sensors to inform a more environmentally friendly campus design that would ultimately improve the services and experiences of the community. 
For example, the sensors in the poles can be used to take temperature readings over time. These readings can be used to determine where "heat islands," which are urbanized areas that experience higher temperatures due to human activities, are being created around campus. In combination with the other sensors, this data can help faculty architect smarter environments taking into account building location, car and pedestrian traffic, landscape and more. 
Testing new networks to advance smart campus initiatives at scale and lower costs
IoT devices, like the ones fitted on the emergency blue light poles, require continuous connectivity to the internet. Today, ASU's University Technology Office is leading a proof of concept with Amazon to test and deploy Amazon Sidewalk Bridge Pro, a new professional-grade Sidewalk bridge. These router-like devices can be installed around campus to extend the existing Amazon Sidewalk network, which is a long-range, low-power wireless network used to keep low-bandwidth smart devices connected even when beyond the reach of WiFi. Think of it as a separate wireless internet connection for smart devices on campus. 
"Exploring sustainable and long-term solutions play a critical role in advancing our smart technology initiatives, both on campus and within the community," said Bobby Gray, UTO's Director of Digital Transformation. "The university is unique in that it is a space that encourages new ideas and disruptive technologies to be developed, tested and iterated upon quickly. Our ultimate goal is to deploy and test Sidewalk Bridge Pro in an effort to bring smart solutions to campus at scale and at lower costs."
Together, ASU's UTO and the CIC are working with Amazon to install Amazon Sidewalk Bridge Pro devices onto the blue light poles so they can extend the Amazon Sidewalk connectivity across the campus.
This network can help ASU and UTO technologists better scale the use of smart devices around the campus at a lower cost. For example, each of the three blue light poles that are currently equipped with sensors have wired internet connections that require installing fiber cables. Leveraging these existing internet connections, teams will install Sidewalk Bridge Pro devices to these poles to create Sidewalk access points that can extend connectivity at far greater distances, reaching up to five miles. With Sidewalk Bridge Pro extending the connectivity to IoT devices, technologists and researchers can begin installing more sensors around campus quicker and without having to incur the costs of running fiber cables. 
In addition, the network helps us free up the university's WiFi for students and faculty to engage in high-bandwidth activities like remote learning, video conferencing and streaming.
From campus to community
When it comes to advancing the use of smart technologies, UTO focuses its efforts from the campus to the community. A critical component of this digital transformation is ensuring the right infrastructure is in place, like the Sidewalk Bridge Pro, to scale the use of smart devices effectively and efficiently across campus to improve the experiences and services to our community at ASU and beyond.