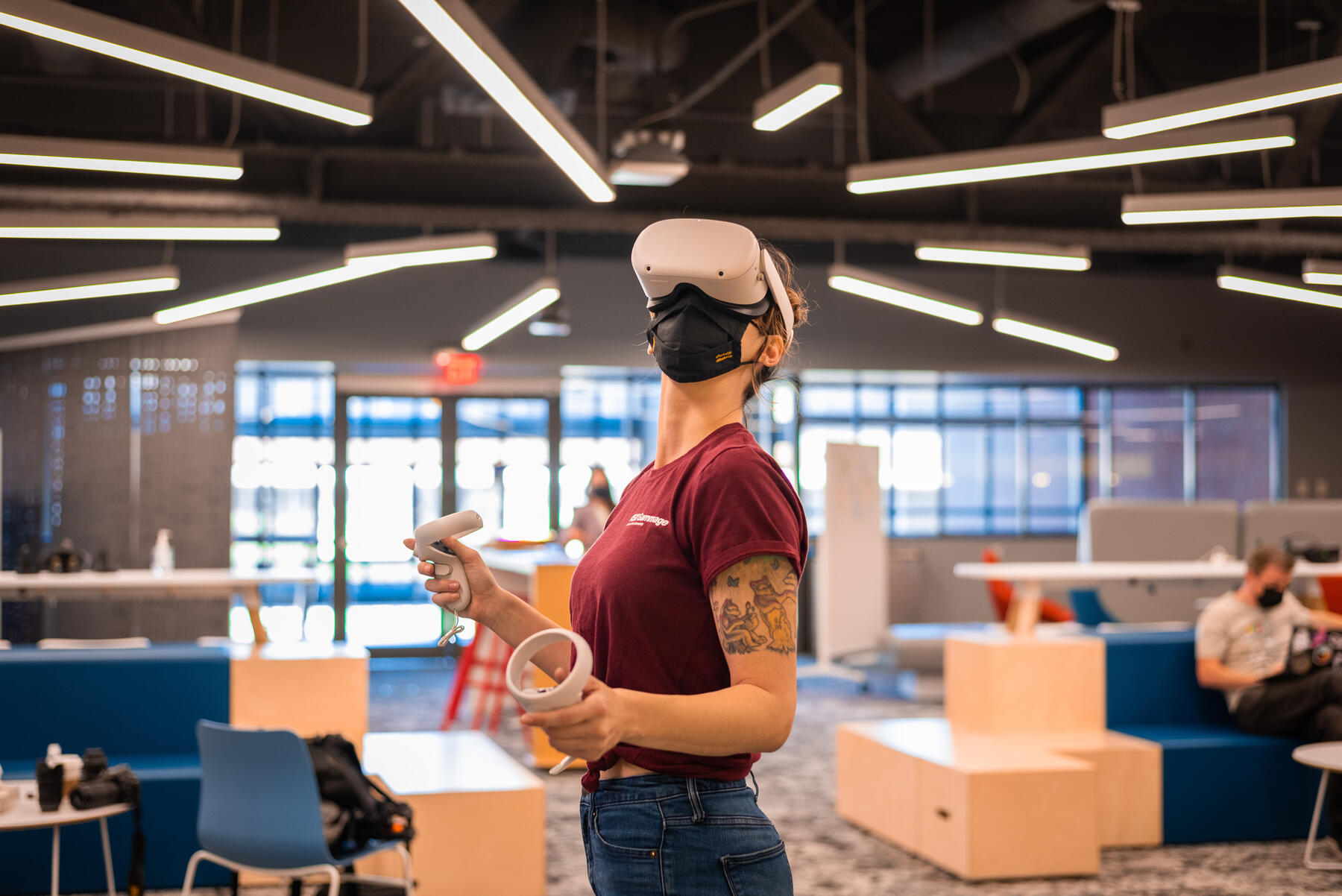 ASU and Verizon partner to bring 5G – the next-generation of wireless technology – to the university
"We are in the most transformative technological moment since the early stages of the industrial revolution," said ASU President Michael Crow during a welcome keynote at the 2022 Smart Region Summit last week. Crow, who was joined by CEO of Verizon Business Tami Erwin, shared how partnerships are key to fueling the innovation happening across the university, especially when it comes to digital transformation. 
Together, Crow and Erwin announced the next phase in the ASU and Verizon partnership to bring Verizon's 5G Ultra Wideband to the university. 
Providing ultra-fast connectivity, 5G Ultra Wideband is poised to help the university move forward initiatives and services that will ultimately improve access to the most advanced immersive learning experiences, expand research opportunities, and increase more equitable healthcare – all of which are taking place at ASU. 
Under the partnership, ASU has become Verizon's newest 5G Innovation Hub. Housed within the university's Learning Futures Collaboratory, located in the Creativity Commons on Tempe's campus, the Hub powers the space with Verizon's 5G Ultra Wideband network. 
ASU CIO Lev Gonick explained that while 5G has been available from a variety of carriers across campus, the innovation hub offers Verizon 5G Ultra Wideband indoors. Verizon 5G Ultra Wideband offers extremely fast internet speeds through increased bandwidth — the more bandwidth, the more data can be sent (think uploading to your computer) and received (think downloading to your computer) — as well as low latency, which offers the lowest minimal delay (think seamless streaming).
For example, both increased bandwidth and low latency can significantly improve the streaming of data to create immersive experiences that more closely mimic real world interactions. 
"These technologies that leverage broadband at the fastest speeds and most advanced level imaginable allow us to create an environment in which the person, the learner, becomes emotionally connected in the story around the learning process itself," Crow shared. "At ASU, we've become, with this next phase of our partnership with Verizon, the furthest at the tip of the spear to be empowered with technology and continue to improve the ways in which we learn, work and live."
Together, Crow and Erwin spoke about the digital transformations being led by their respective organizations. With the Summit's emphasis on closing the digital divide, both leaders shared how the two organizations can work together to bolster equity across a region by expanding the reach and creative uses of services and tools — like high-speed broadband and 5G.
In closing, Erwin and Crow shared that one of the first programs to launch out of the space will be a digital equity jam for ASU students, sponsored by Verizon, AWS and Inseego. Kicking off in early February 2022, the Jam invites student-led teams to develop use cases showcasing how Verizon 5G Ultra Wideband and mobile edge compute can be used to help bridge the digital divide. Focus areas will include health, climate, poverty, human rights and education. The winning team will receive project seed funding, access to the Clinton Global Initiative (CGI) 2022 curriculum, and the opportunity to pitch their venture to CGI in fall 2022. 
Registration for the ASU and Verizon 5G Student Jam is now open. ASU students of all disciplines are invited to participate; space is limited. 
"Working with ASU, we have an extraordinary opportunity to research and develop new 5G-enabled experiences that can improve remote learning and help bridge the digital divide," said Tami Erwin, Verizon Business CEO. "Verizon 5G Ultra Wideband's super-fast speeds, increased bandwidth and low latency can enhance applications ranging from immersive education to connected communities. By collaborating with ASU's researchers, we hope to accelerate the innovation process and develop technology that will harness the full potential of 5G and edge compute."
Additional opportunities for the university to leverage Verizon's 5G Ultra Wideband will focus on improving learning experiences, expanding research opportunities and increasing more equitable healthcare. 
For more information, check out recent coverage of the Verizon 5G Innovation Hub at ASU in Fierce Wireless: