Unleashing the modern IT workforce: an antifragile model that supports community needs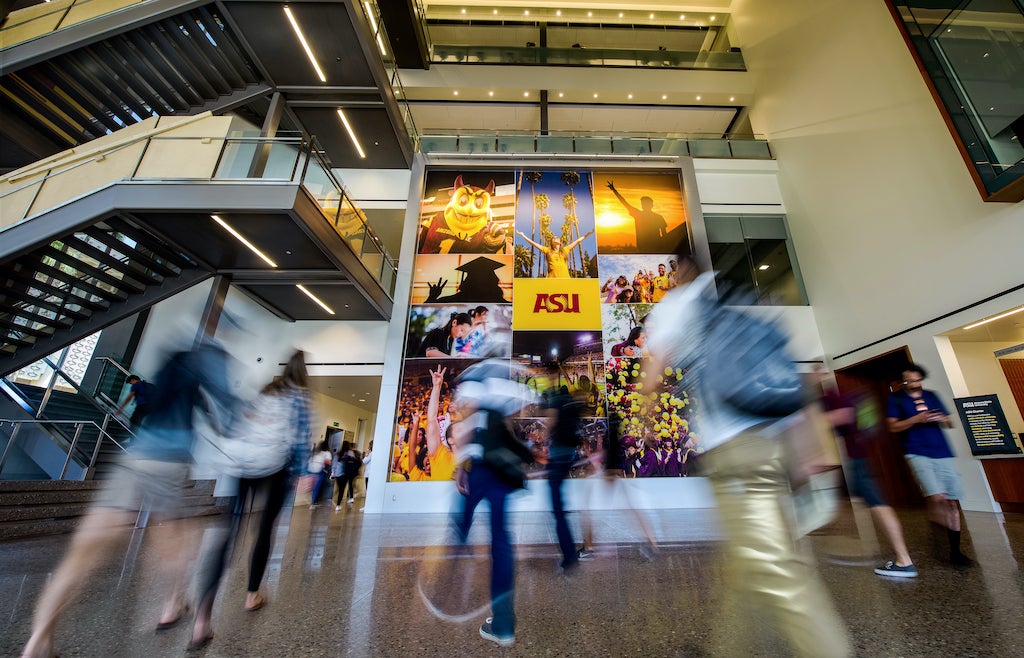 Editor's note: This is the first installment of the UTO Newsroom category Modern Workforce, which will explore, surface and contextualize the journey to and through UTO 2.1.
Since July 2020, ASU's University Technology Office has embarked on a journey to become a more agile and antifragile organization. This internal digital transformation has become known by the moniker "UTO 2.1" (for 2021!) and together we have shaped the organization into a rapidly reconfigurable and entrepreneurial model that better meets the needs of our community. 
"UTO 2.1 has been a reframing not only of how work gets done at UTO, but also about how we are agile in addressing the needs of the ASU and broader community," said Lev Gonick, ASU CIO. "Instead of a hierarchical, top-down approach, our goal has been to advance a model that empowers individuals to leverage existing skills and build new ones on a greater diversity of projects."

What does it mean to be agile?
In the most general sense, an agile organizational structure is defined as a non-hierarchical system that quickly responds to external changes in the marketplace or environment. This structure is focused on its community's needs, which many times call for customized and fluid — rather than standardized — offerings.
Agility is essential for IT organizations to serve and keep pace with the rapidly changing technology landscape. It is necessary for bolstering our antifragility — enabling us to more smoothly and efficiently pivot in the face of new challenges or opportunities. 
Never has this concept been so clear as during the shift to remote work, learning and life over the past year. In the midst of the pandemic and transformation into UTO 2.1, UTO helped the university stand up its remote and hybrid operations for nearly 120,000+ students and 18,000+ employees.
While a huge focus of 2.1 is excellence at scale, the impact has been felt at the individual level.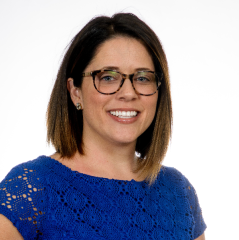 Lisa McIntyre (pictured right), the assistant vice provost for student success innovations at ASU, describes her experience during the transformation to UTO 2.1 as moving from a customer to a partner: 

"In the new model, business owners have been elevated from customers to partners respected for their potential contributions as business experts," McIntyre shared. "The fluid nature of 2.1 makes space for business owners to collaborate on priorities and on how work gets done in a way that empowers both the UTO teams and the business teams to be successful within their respective professional contexts."
UTO 2.1's Unique Value Proposition 
A concept that ASU President Crow has discussed in many recent presentations, UTO defines antifragility as building on our resilience to unleash the collaborative forces of our teams to thrive through radical changes and disruption.
To bolster a more antifragile organization, UTO focuses on three key areas: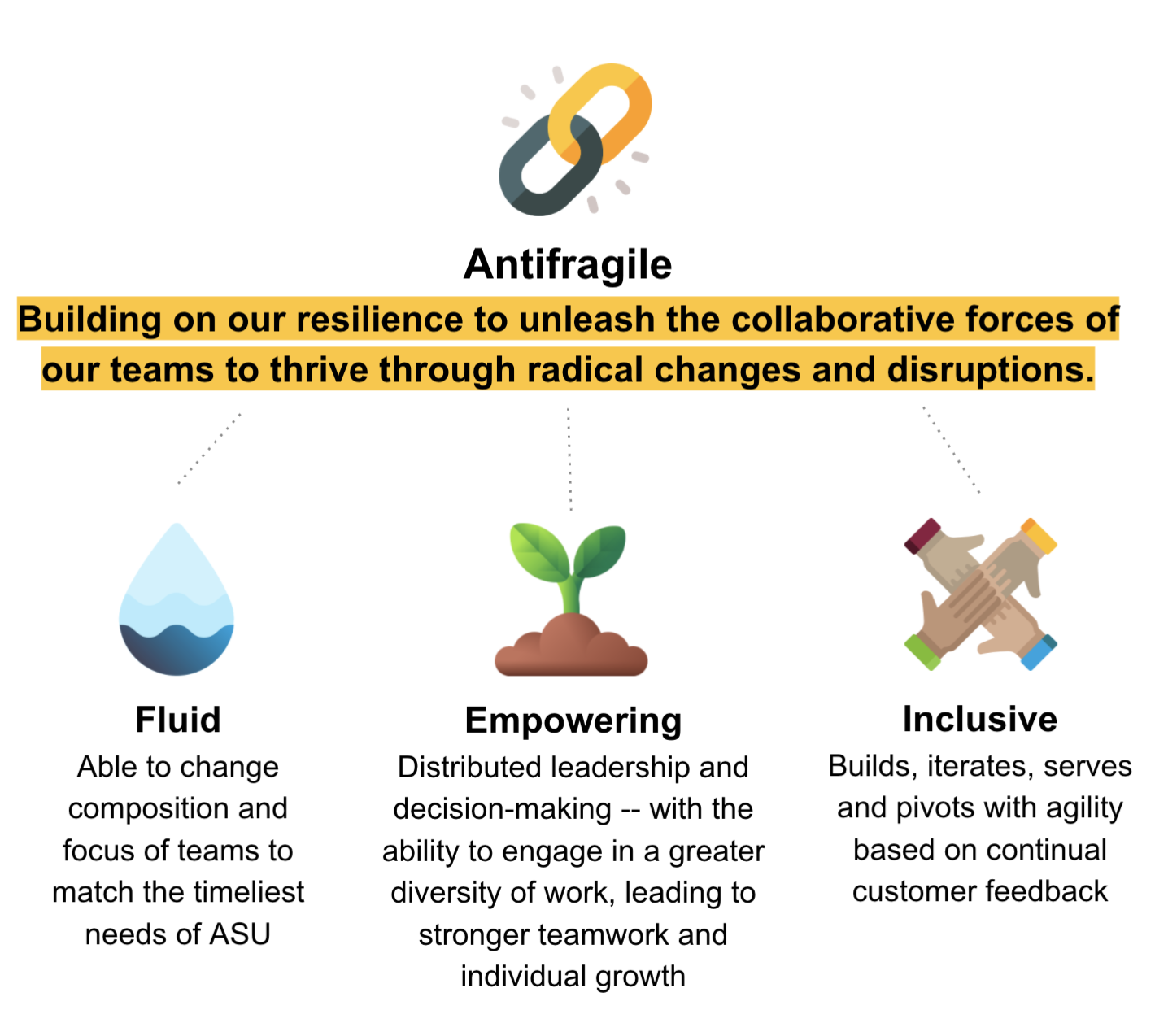 Another core element for this type of organizational structure is to remove hierarchical systems: 
"One of our first steps was to eliminate most of the traditional hierarchical management layers, embracing collaboratively crafted organizing principles for professional guilds and working chapters," Gonick continued. "New leadership configurations and initiatives were co-created by a diverse group of new entrants into our ranks."  
The UTO 2.1 organizational model at a glance
The UTO 2.1 design emphasizes autonomy, flexibility and distributed decision-making to leverage the strengths of individuals. Today, the breadth of work accomplished across UTO team members is represented by the 18 puzzle pieces below. Combined, these are the main areas that house the work of UTO: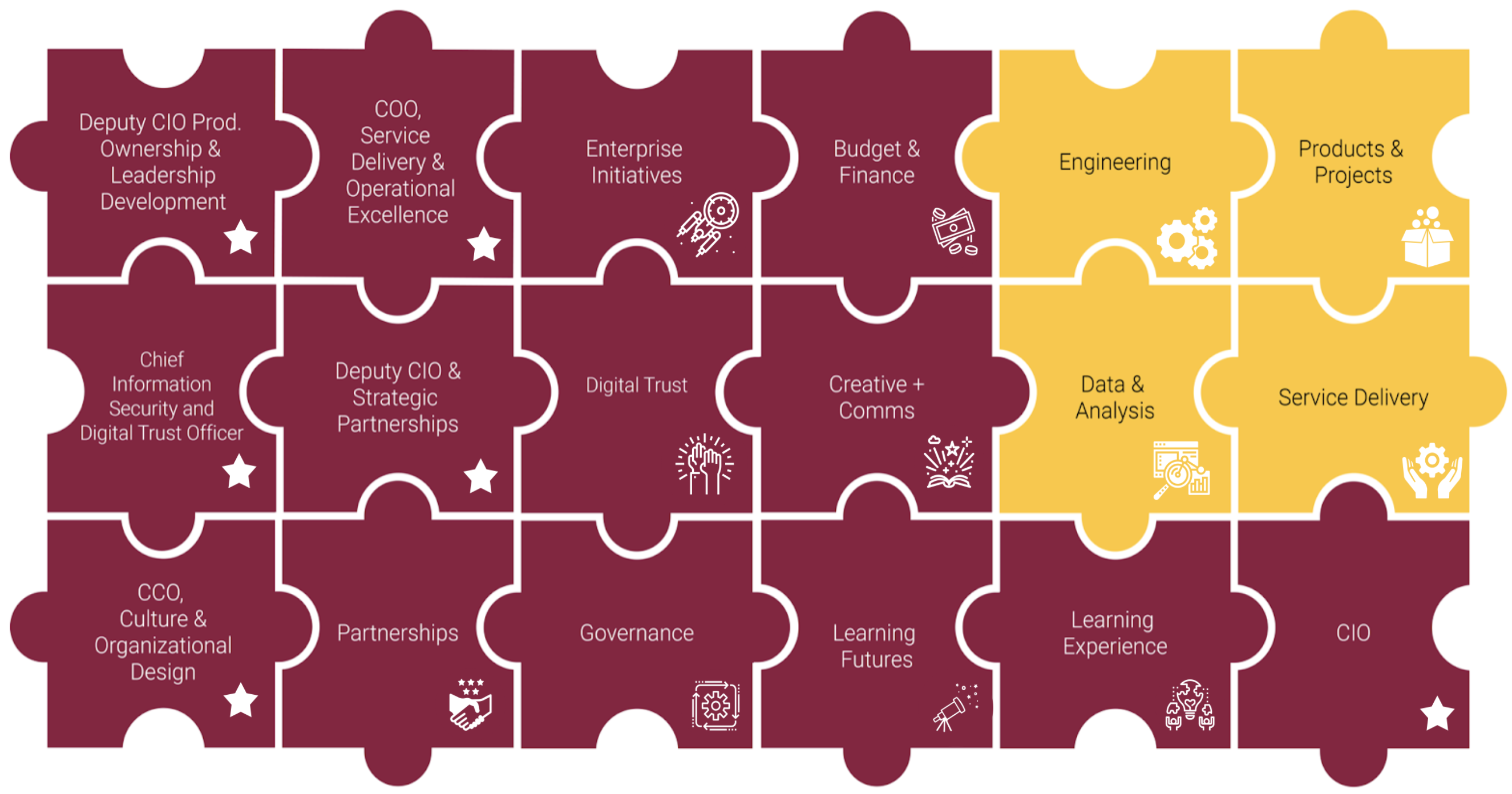 The majority of UTO team members sit within the four cores, noted as gold puzzle pieces above. These include: Engineering, Products and Projects, Data and Analysis; and Service Delivery. Designed as clusters of UTO professionals with similar areas of expertise in one or more of the four fields, these cores are a step towards leveraging the collective insight, knowledge and experience of everyone in UTO. 
Let's dive into the four cores, which are at the center of the organization:
Engineering designs and leverages machines in the form of software, tools and ecosystems that scale ASU resources for the community. 
Products and Projects crafts solutions that our community can leverage "out of the box," in addition to managing specific portfolios that advance ASU goals and aspirations. 

Data and Analysis is capturing information about how the ASU community is engaging with specific content and environments to inform improvements to offerings. 
Service Delivery

helps to define the interactions between providers and community members around ASU enterprise offerings, of which there are 165 services available across the organization, to date.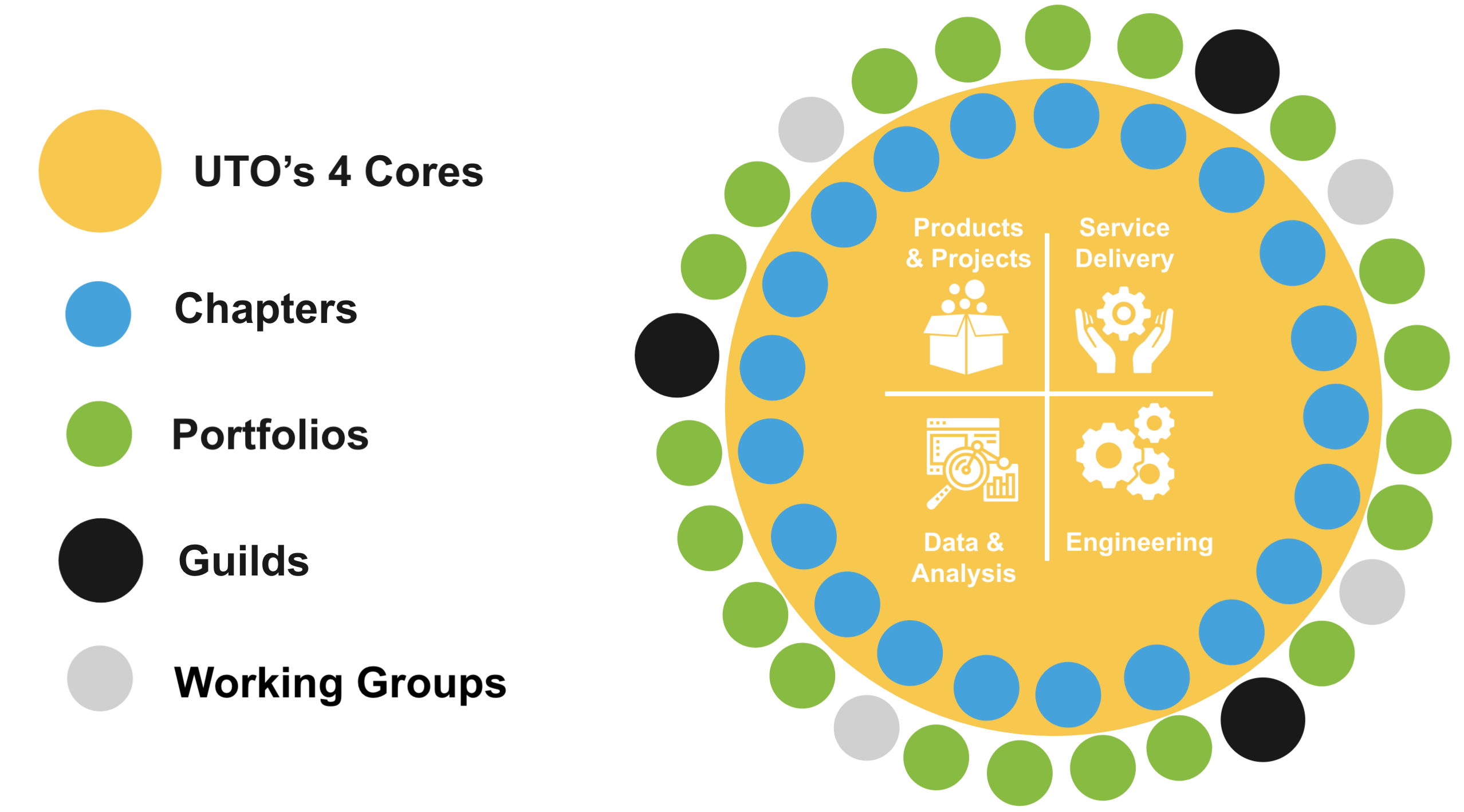 Each of the four cores are composed of chapters that organize people by a common professional practice. It is important to note that most every practitioner at UTO is in a single chapter aligned with their professional skill. Chapter leads are present to provide guidance for best practices, mentorship and professional development. 
However, as Gonick notes, under this model all UTO team members are empowered to lead: "A central principle of UTO is that everyone is a leader. You don't need to be on a 'leadership team' to make important decisions, move projects forward and raise new ideas that help Sun Devils thrive."
Portfolios are where work gets done across cores, aligning strategy and solution development teams around specific products, projects and service offerings. Guilds offer collaboration across cores as well; they center people around a common interest, often inclusive of both professionals and enthusiasts, either chartered or self-organized.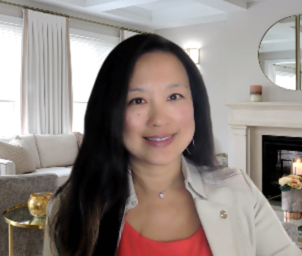 How has this shift to chapters and portfolios impacted the UTO family in practice? Prior to UTO 2.1, Kelly Mukherjee (pictured right) was product manager with a focused scope of products. Fast forward to today and Mukherjee is now a portfolio director, adding Salesforce and a wide range of web products to her portfolio of work.

"This has been a huge opportunity in terms of career growth," Mukherjee noted. She went on to share how it was more than a title change that happened. "The UTO 2.1 structure has also empowered me to reach out to individuals for help on projects, making it easier than before to solve resource constraint issues. I was able to reach out and find someone who was interested in supporting one of those products, allowing the team to scale better in serving our customers."

Let's break down one of the cores as an example:

[Core] Service Delivery is one of UTO 2.1's four cores. As explained above, it connects ASU community members through enterprise offerings. 

[Chapter] One chapter that develops and manages a portion of these offerings is Information Security. Given direction by a chapter lead, members of the Information Security chapter and service team bring their professional skills to bear on the aptly named Information Security Services portfolio that connects UTO and the university.

[Portfolio] Service Delivery portfolios are made up of related service "families;" in this case, services that are impacted by and benefit from Information Security. As you might expect, keeping the ASU community's information safe is a very high priority. Therefore, the Information Security chapter is kept plugged in on cross-chapter portfolios, bringing a shared operational responsibility to UTO 2.1. 

[Guild] Beyond this work, an individual from the Information Security chapter may participate in the Culture Weavers guild, a group of UTO family members who have self-organized to bring a positive work environment to UTO and beyond.

This approach to collaborating opens up new and deep possibilities for innovation and breaks down the silos that have defined organizations for decades and beyond.

For UTO Network Security Engineer Seth Gehring (pictured right), the presence of Guilds has been a game-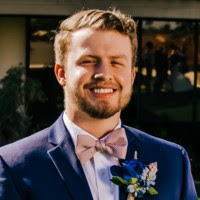 changer, providing him with new opportunities to upskill and explore the future of his career: 

"Through the Cloud Development and Consulting Guild, I reached out to an initiative leader who presented. With just a simple interest in the technologies that were happening, I am able to be a part of their initiative for Software Defined Networking here at ASU. UTO 2.1 granted me this freedom and has given me the agency to peak my own curiosity with something new that will accelerate my career."

This kind of agility and upskilling is proving fruitful for community members across ASU. Senior Director for ASU Learning Enterprise Roger Kohler is another longtime partner of UTO. In reflecting on the shift to the new model, Kohler noted "UTO 2.1 is defined by folks 'stepping up'. On a number of Learning Enterprise projects, UTO 2.1 folks have taken the initiative and helped us overcome difficult technical challenges." 

One of the most notable examples of this was changing data security from being a barrier to being a collaboration, in which Kohler shared "The model of governance through collaboration is incredibly helpful."
Putting together the remaining puzzle pieces 
UTO's focused scopes represent strategic focus areas, led by teams and individual contributors, that both leverage and advance UTO's core capabilities. 
Dive into UTO's eight focused scopes below:
And check out a few examples of the work stemming from these strategic areas: 
Learning Futures is exploring how Extended Reality can be used to create more engaging and emotionally compelling learning experiences through their work with Dreamscape Learn and XR@ASU.

Creative and Communications has partnered with the Digital Trust Initiative to host ASU's Digital Trust Summit, taking place virtually from June 15-17. Participants will learn about the latest digital trust work and conceptualize the future of this field and its impact on education and the workforce. Register today!
What's next? We iterate and continue to share 
With a year of the 2.1 reframing now underway, we've launched this new UTO Newsroom series Modern Workforce to explore, surface and contextualize our transformation and its impact on UTO family members, the Sun Devil community and our partners within and outside ASU.