Donna Kidwell - ASU's Chief Information Security and Digital Trust Officer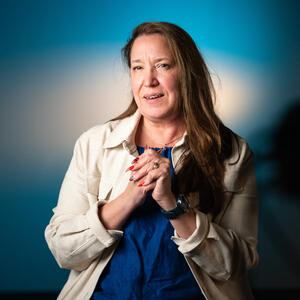 Donna Kidwell is ASU's Chief Information Security and Digital Trust Officer, joining the University Technology Office in November 2020.
In her most recent role as Chief Technology Officer for EdPlus, Donna partnered on digital trust initiatives. For example, Kidwell helped develop the Trusted Learner Network (TLN), which takes a tiered approach to explore new and emerging "technologies of trust," including identity management, a trusted learner record, reverse transfer with community colleges and course credit exchange. Kidwell will continue to lead the TLN and many other trust initiatives in her new role.
As CISDTO, Donna has stewardship of the portfolio of both internal and external facing technical and socio-technical elements reflecting the full breadth of the university's digital infrastructure as well as the ongoing need to educate the campus community. 
Donna Kidwell received her doctorate at the Ecole de Management in Grenoble, France, and her Master's in Science and Technology Commercialization at The University of Texas at Austin. She led the development of The Innovation Readiness Series™, an online course developed to help global innovators. Her research interests include innovation and commercialization.
She has worked globally to encourage economic development through science and innovations. Prior to her work with UT Austin, Donna was a software consultant, and developed custom database applications and eLearning environments for companies such as Exxon, Agilent, and Keller Williams Realty International. She is passionate about creating action based online systems to educate and help others achieve their goals.