Lev Gonick - Chief Information Officer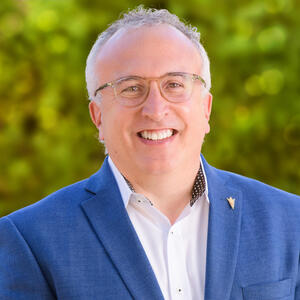 Lev Gonick is an educator, technologist, and smart city architect. He has been teaching, working, and living on the Net for more than 25 years.
Lev Gonick is Enterprise Chief Information Officer at Arizona State University. Enterprise Technology at ASU leads the design and agile management of all enterprise infrastructure, applications, products, services and analytics. Lev also chairs the Sun Corridor Network, Arizona's Research and Education Network.
In 2023, Lev has been recognized by the ORBIE Awards as Arizona's top large Enterprise CIO. In 2022, EdScoop named him as a Top 50 Educational Technology influencers and leaders.
Before joining ASU in 2017, Lev Gonick was co-founder and CEO of DigitalC, the award-winning non-profit organization enabling and celebrating innovation, collaboration, and productivity through next generation broadband networks, big open data solutions, and IoT for public benefit
Lev was CIO at Case Western Reserve University from 2001-2013. He and his colleagues were internationally recognized for technology innovations in community engagement, learning spaces, and next generation network projects. Lev's innovations, including the Case Connection Zone catalyzed national projects, including US Ignite and Gig.U
Inside Business Magazine named Lev one of their Power 100 in 2015. In 2011 Government Technology awarded Lev one of their "Top 25 Doers, Dreamers & Drivers in Public-Sector Innovation."​ In the same year Crain's Business Cleveland named Gonick one its "10 Difference Makers"​ in Northeast Ohio and Broadband Properties honored him with their Cornerstone Award for "using fiber to build an inclusive society and empower individuals."​ In 2010 he received recognition as "Visionary of the Year" from NATOA. Lev has been recognized by ComputerWorld as a Premier 100 IT leader and honored by CIO magazine with a CIO 100 Award.
Future of Education, Broadband, Social Networking and Network Economy, Fiber to the Home, Innovation and Technology, Smart and Connected Communities, Internet of Things, Programmable City, City as an Operating System, Political Economy and Information Technology,