ShapingEDU Winter Games partners with Human Services Campus to give back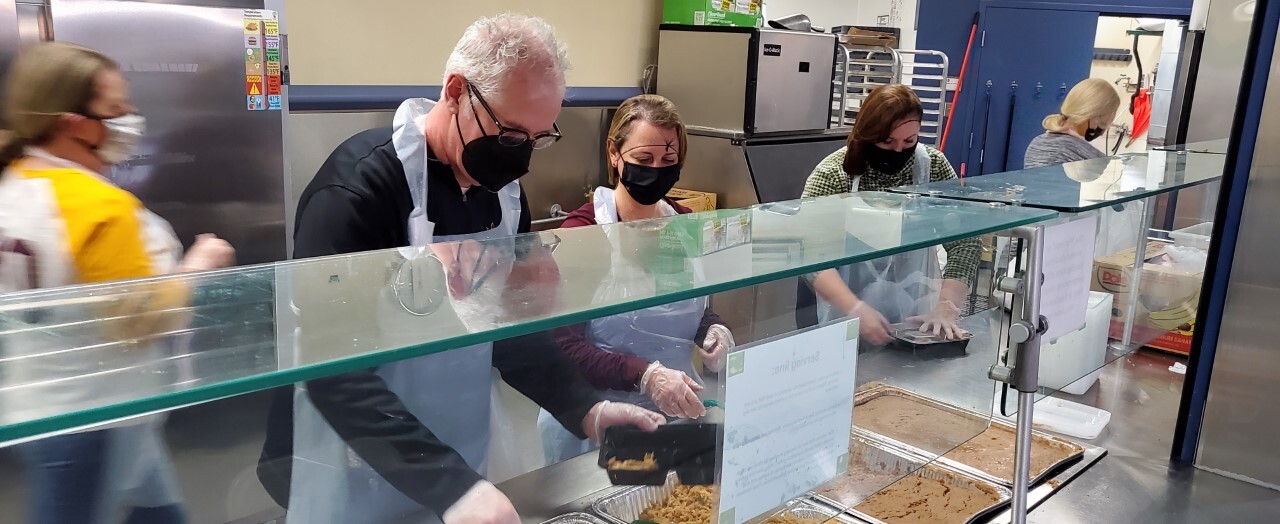 ASU ShapingEDU brings together a community of changemakers who not only envision a more positive future, but undertake concrete actions to create those futures together. With this driving motivation, ShapingEDU's most recent digital immersive event, Winter Games, set forth to make a global impact for the future of learning and living, while also serving the local Arizona community.
With a $5,000 donation from the ShapingEDU Winter Games, UTO family members teamed up with the Human Services Campus (HSC) and St. Vincent DePaul on Friday, January 8, 2021 to serve lunch to over 500 Phoenicians currently experiencing homelessness. 
[caption caption="UTO family members Bonnie LeBlanc, John Rome, Erin Morrow, Andrea Fossum and Donelle Culley volunteer their time to distribute meals on January 8, 2021." align="center"]
[/caption]
"For the past three days, we've been working and co-creating with a global community to create the future of smart region design and learning," said Erin Morrow, Co-Director of Winter Games and UTO Event Manager. "It is great to be able to take that energy from our digital immersive event and pour it into opportunities that support and impact our local community, like we are doing with the Human Services Campus today." 
HSC's 13-acre campus in downtown Phoenix is home to 16 different organizations offering a variety of housing, health, wellness, employment, and legal services. Amy Schwabenlender, Executive Director of the HSC, speaks of those who seek services on their campus: "I am amazed at their resilience and resourcefulness. One of my staff shared his story from when he was in this same situation — people saw him and forgot his human-ness."
Support for the HSC is one way to actualize the transformative work highlighted by the Winter Games. "We're looking to embed ASU on our campus and make more connections," explains Schwabenlender of the partnership between the university and HSC organizations, which center around the Action Nexus to Address Homelessness. "ASU has resources for systems change, such as students, researchers, projects, etc. They harness the power of academia to serve the community. Together, we can leverage our strengths and the strengths of the university system."
The UTO team regularly participates in service activities every month. According to Bonnie LeBlanc, UTO Director of Enterprise Solutions, Giving Back to the Community activities are a way to reach various sectors of our area through volunteering. "We do a lot of work with Pitchfork Pantry on campus, many organizations who address food insecurity, as well as animal welfare, trail maintenance...there is so much that can be done," she shared.