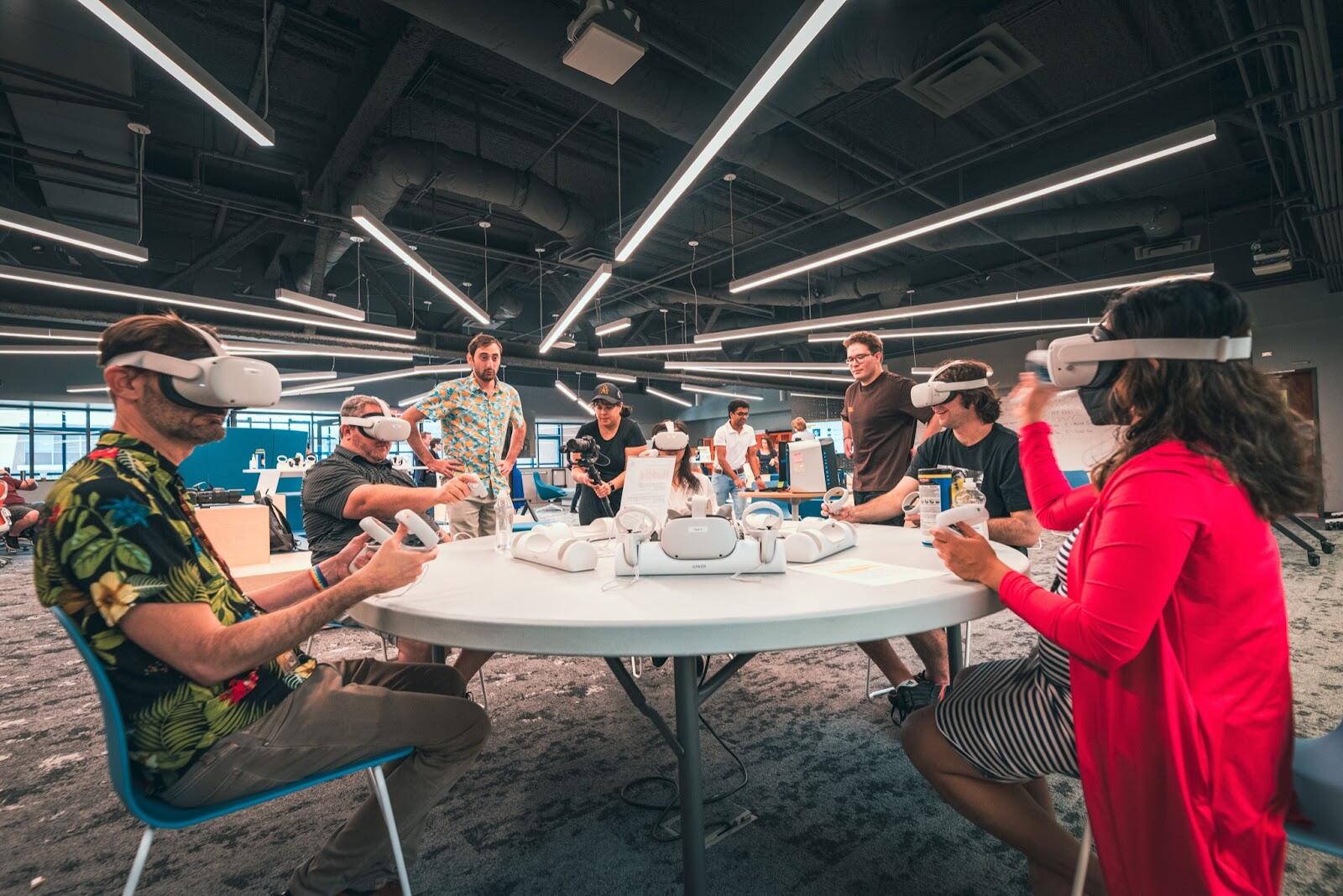 UTO supports a tech-enriched welcome back for Sun Devils
For first-time students, returning faculty and the ASU staff community, there's something special about the start of a new academic year.
Here at UTO, we take pride in providing technology support, strategy and security for ASU and all Sun Devils. As we close out the first week of the fall 2022 semester, explore some of the tech-focused ways that UTO's work helps the university community.
Ensuring a connected community
Every day, thousands of students, faculty and staff log on to ASU's wifi network. Keeping the university connected online to support the learning, teaching and work is no small feat.
Across the first week of classes, ASU websites served over half a billion web requests – clicks, for example – across all ASU sites. This activity is happening worldwide, requiring edge locations across the globe to distribute this content. That's a staggering amount of activity supported globally across ASU websites. 
Interestingly, the time between classes is when peak loads on ASU systems happen – which reached as high as 3,000 requests per second on the first day of classes. This requires a dynamic infrastructure to keep learners seamlessly connected while they move around campus and connect remotely.
Still, some hiccups can occur when individuals set up their devices. To that end, the ASU Tech Studio provides in-person technical assistance on all four Phoenix campuses. The Tech Studio offers tech support by experts who provide hardware and software troubleshooting, including assistance for ASU wifi and Duo's multi factor authentication, as well as the university's suite of tools, like Zoom and Canvas. And since August 15, over 700 students have been provided assistance at the ASU Tech Studios.
The Tech Studio also manages the university's laptop loaner program, which provides assistance to students who need a device throughout the semester. In the same time period, over 400 devices were loaned to students, with a total of 3,800 laptops and hotspots loaned this year. Please note the laptop loaner program is at capacity at this time. 
Learn more about the offering of the ASU Tech Studios. 
Providing assistance to enhance the Sun Devil experience
While the ASU Tech Studio provides on the ground support, think of the Experience Center as the university's central help desk. Agents provide 24/7 support for services like financial aid, IT, parking and transport, and more.
As expected, the back to school time is the busiest for the Experience Center. From August 18 through August 23, these agents handled over 40,000 contacts – including calls, chats, emails, etc. – across nearly 20,000 inquiries from the Sun Devil community. This impact is far reaching across the entire community.
Just as the Experience Center provides service support, the Learning Experience (LX) group works directly with faculty to rethink pedagogical and student-centered approaches that integrate technologies for teaching and learning.
The LX team has conducted 157 faculty consultations so far in August, supporting faculty use of tools like ASU's learning management system Canvas, Badgr and more. These consultations empower faculty to better prepare for and enhance their course with technology.
Exploring the future of tech-enabled learning 
In addition to supporting technology now, our UTO teams also look towards the future for the next generation of technology. For example, ASU's Learning Futures (LF) team works to imagine and build the future of learning. Employing a team of student workers to lead much of the design and development of new experiences is central to this mission.
On August 19, the LF team welcomed faculty members to explore virtual reality learning experiences, digital twins and more at their space in the Tempe campus' Creativity Commons.
During their time, faculty had the opportunity to check out Huddle, a collaborative virtual reality learning environment developed by the LF student workers, under the direction of Co-Executive Directors, Heather Haseley and Dan Munnerley, and Studios Director, Toby Vaughn Kidd.
In Huddle, learners "enter" the virtual learning environment by putting on Oculus VR headsets. There, learners are represented as avatars and can engage with each other and their coursework in the virtual space using a variety of interactive tools.
After participating in the Huddle experience, Chad Westover, Instructor for Graphic Information Technology at Ira Fulton Schools of Engineering, noted: "I've been involved with VR for a long time, but seeing the different types of technology that can potentially be used in the classroom now really began to spark ideas for me."
Advancing a modern workforce of the future
Crucial to UTO's success is the cultivation of a modern workforce. This academic year, UTO is preparing for the goals of tomorrow while meeting the immediate needs of our communities today through the launch of the UTO Technical Upskilling Program. This year-long program provides a variety of IT experiences for individuals looking to upskill and explore a career in technology. 
Employed by UTO, 16 applicants have been admitted into the program thus far. Organized into cohorts, the team members will rotate across four specialized departments – including the Experience Center, Deskside Support, Classroom Support and Program Management units. By the end, these cohorts will receive well-rounded work experience as they collaborate with a variety of our teams.
While working for the UTO, participants will also be completing six ASU Universal Learner Courses at no cost. Upon completion, participants can apply for a professional Google IT Support Certificate, co-branded by ASU to demonstrate both educational and professional experience. 
Ultimately, this program is designed to narrow skill gaps in the IT industry to build an equitable workforce.
Together, we enhance the experiences and services for our community
These are just some of the services UTO provides – in collaboration with partners across ASU's departments, units and Enterprises – to enhance the Sun Devil experience. 
And as we look forward to a new academic year, we remain committed to ensuring and advancing the support and security of digitally-enhanced ways to live, work and learn at ASU and beyond.