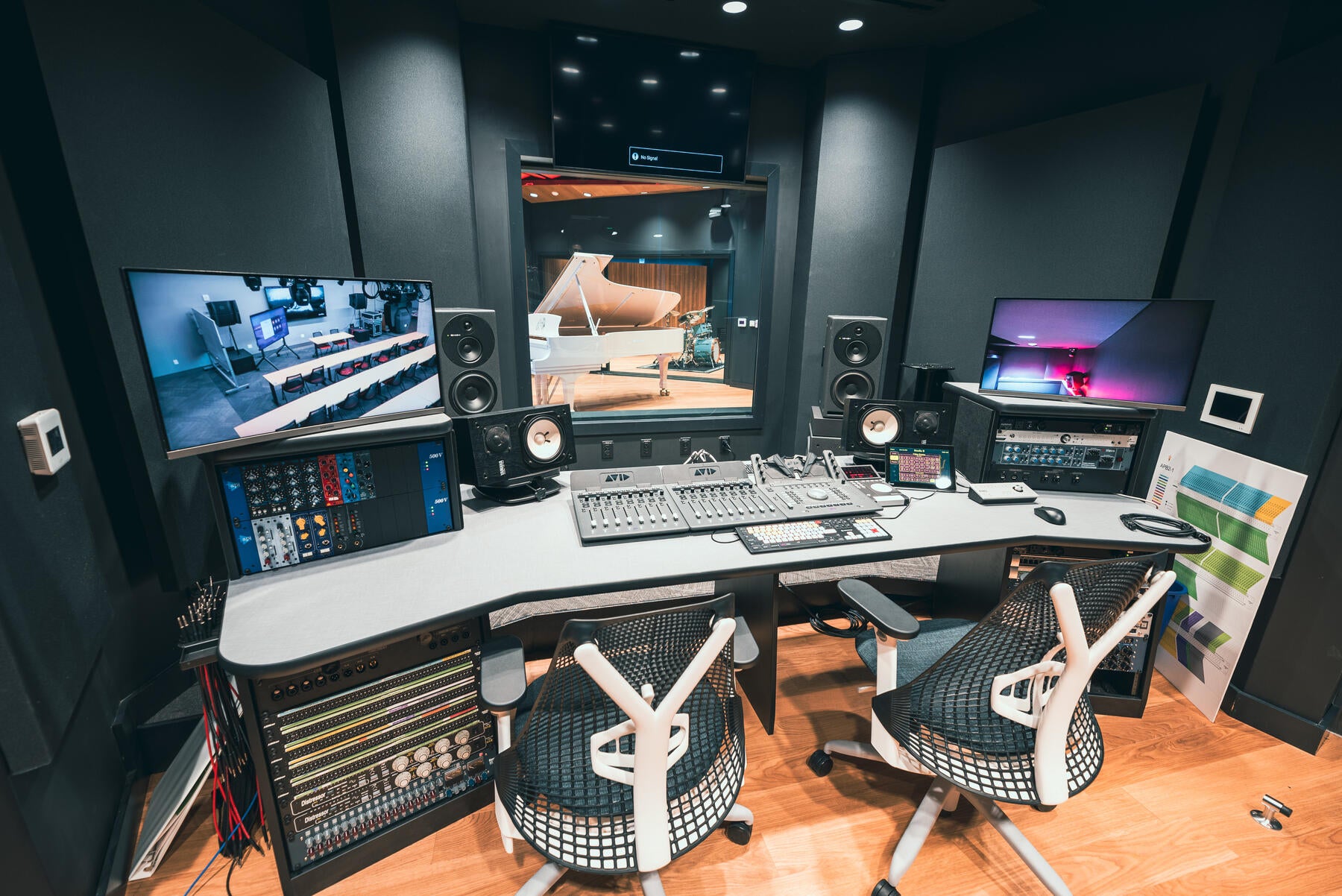 One year in: Fusion on First provides students with state-of-the-art learning and living experiences
"I was pretty much in shock after seeing the space, you could see the endless potential for it," shared John Paul (JP) Rabusa, an undergraduate senior in ASU's Herberger Institute for Design and the Arts when reflecting on his first time stepping into Fusion on First, one of ASU's newest housing communities.
The 13-floor building offers both living and learning spaces for Sun Devils, with the first three floors dedicated for academic space, followed by ten floors of dorms for upwards of 500 upper division students. 
"The recording rooms are feats of technological and engineering genius," Rabusa continued. And for the fall 2022 semester, Fusion welcomes its second cohort of students – including Rabusa – to work, live and learn in the academic and residential building at the university's Downtown Phoenix campus.
The recording rooms are feats of technological and engineering genius

John "JP" Rabusa, an undergraduate senior at ASU's Herberger Institute
Making music with industry-grade tools
Herberger Institute's popular music program, part of the School of Music, Dance and Theatre, operates out of Fusion on First's first three floors. Popular music – which educates 21st-century performers, producers, engineers and more – became available in fall 2020, with courses originally held in the music building on ASU's Tempe campus. After a year, however, the program moved into the mix of practice rooms, two recording studios, and other classrooms at Fusion on First.
ASU's University Technology Office was part of the build process. In addition to partnering to ensure the state-of-the-art spaces were equipped with the right technology and digital infrastructure, UTO also implemented the network connections that allow the building and its residents, learners and visitors to connect to the internet. "The design and building of Fusion on First was a huge undertaking," said Sean Snitzer, part of the Network Infrastructure Expansion team that managed technology aspects of the project. 
"We equipped expansive analog recording panels and network capabilities that allow musicians to record across the building's multiple practice rooms and spaces," Snitzer continued. "We also provided 15 wireless-enabled Zoom mobile carts to be used throughout the areas for Zoom functions and whiteboarding."
Jorge Costa, a popular music instructor and engineer with more than 20 years of experience in the music industry, evaluated what the technology outfitted in the spaces offers. "I'm pretty comfortable saying we have the best recording spaces in Arizona right now," Costa said.
I'm pretty comfortable saying we have the best recording spaces in Arizona right now,

Jorge Costa, a popular music instructor at ASU's Herberger Institute
But what makes Fusion on First's music spaces so impressive? Well, they are populated by professional gear and specialty pieces of equipment, including a mix of analog and digital interfaces in each studio. A highlight is a limited commemorative piano reproduction of John Lennon's white piano, commissioned by Yoko Ono and signed by the Beatle's wife.
Exposure to these industry-grade technology and processes is key to Costa. "I feel like I've rediscovered the space through the students' experience," he said. "Since I've been doing it for 20 years, I can see the space and quickly it becomes the office. But seeing it from the students' perspective – where every knob is fascinating – it makes me fall in love with the process again."
Students building community
The fascination is meant to be translated into simultaneous professional experience. A goal for the Fusion on First recording spaces, Costa explained, is to bring in external clients. In those cases, students would operate as paid engineers, essentially getting on-the-job training while carrying out their academic experience.
Rabusa is an undergraduate senior in the popular music program who learns, works and lives at Fusion on First. With a focus on a live album recording capstone project, managing an equipment checkout desk for his fellow students, and acting as a Fusion Catalyzer assisting residents with their needs, Rabusa operates within and builds the tight-knit community that has formed at the building in the past year.
UTO's approach to "enabling the students," as Snitzer put it, was to plan accordingly for the complexity of design for industry-grade audio recording. "We worked with the program director to provide capabilities for a mix of professional and 'prosumer' equipment for the program's needs. Collectively, students have access to experience with almost anything they might run into out in the industry. We're creating a framework for the programs to be successful now, with future capabilities to come."
The popular music program is not the only one present in Fusion on First. ASU's Edson Entrepreneurship + Innovation Institute hosts a space on the ground floor of the building, dedicated to co-working, pop-up retail, events and exhibitions. Herberger Institute's fashion program, in the School of Art, also operates out of the first three floors, with expansive studio spaces full of resources for budding fashionistas. The blend of academic and residential spaces also allows for unique experiences.
One such opportunity that Rabusa is excited about is his idea for a midnight recording session, as a number of the practice rooms (incredibly sound-proofed, of course) are open 24/7.
This sense of community, brainstorming and exposure represents Fusion on First's unique nature. "I want students to never forget how special these spaces are, and to keep their curiosity full on, since that's the best way to learn," Costa said.
Fusion on First represents an emphasis of academic programs at ASU: It is providing students with skills and the hands-on experience with tools that prepare them for their future careers