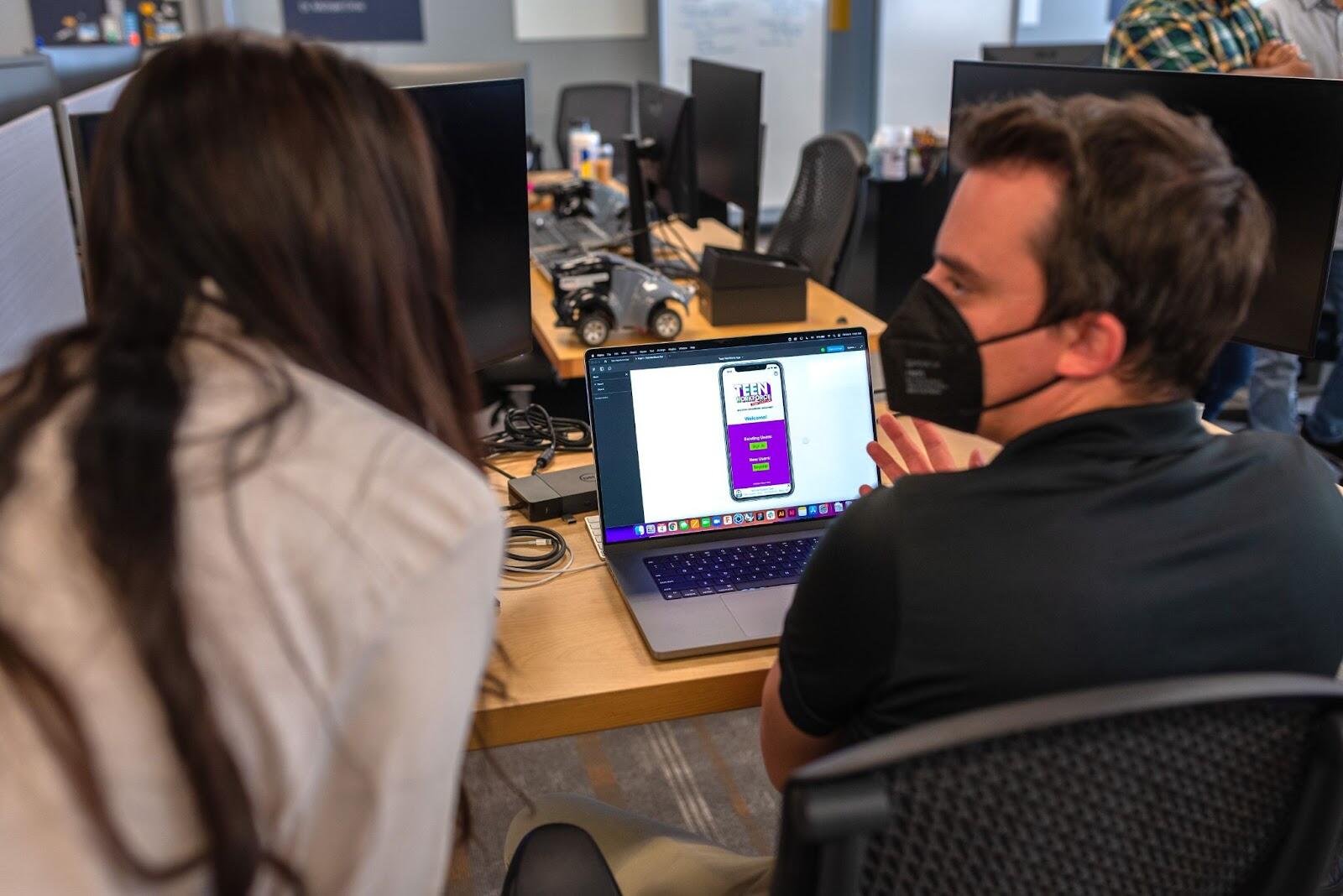 New app is helping teens navigate entry into the workforce
Understanding time management, building confidence, making more money later in your career – these are just a few of the benefits of having a job as early as high school.
"Furthermore, promising evidence also shows that teens who work are more likely to stay out of trouble," said Brent Downs, Chief Executive Officer for St. Joseph the Worker, the largest community-funded employment organization in Arizona. "This makes the workforce a preventative approach to lower the amount of disconnected youth."
In Phoenix, local organizations like St. Joseph the Worker play a critical role in providing resources for teens and young adults to successfully join the workforce and kick start their career journey. Take, for example, their Teen Workforce Initiative, a collaborative initiative started in 2019 with Dress for Success Phoenix that provides workshops and resources to improve workforce readiness and life skills. 
Partnering with ASU to accelerate their digital transformation
In order to have the largest reach possible, St. Joseph the Worker needed to meet teens and young adults where they are. So where does this age range spend their time? The team thought apps and smartphones were a good place to start. 
And they were right. According to recent studies, young adults spend up to seven hours a day on their phones. 
But how to translate their offerings into an engaging app? They turned to ASU's Smart City Cloud Innovation Center, powered by AWS, to get started. 
Known as "the CIC" around campus, this long-standing partnership between ASU and AWS works to partner with cities and nonprofits to help organizational leaders ideate possible solutions for current challenges and design an innovative approach using technology. 
Together, the two organizations worked through a series of workshops, applying Amazon's innovation process known as "working backwards" which puts the customer – in this case, young adults – at the center of the discussion and designs a solution based on their needs
Working collaboratively on the design process 
The Teen Workforce Initiative provides many resources for young adults to navigate their entry into the workforce; this includes resume building, job seeking, interview preparation, transportation and more. With all these offerings, the teams worked together to design and develop an app for teens to more easily access these resources.
This makes the workforce a preventative approach to lower the amount of disconnected youth.

Brent Downs | Chief Executive Officer for St. Joseph the Worker
ASU students and CIC interns Nilo Exar and Sarah Vue designed the app's user interface (UI). To begin, Exar and Vue held a workshop with Rae Herrera, Youth Services Director at St. Joseph the Worker, and others to go over the required features and functionality they wanted to explore. 
"I didn't know what to expect because this was my first experience with an app," said Herrera. "They asked a lot of questions, a lot of back and forth – everything we asked for, they were able to create."
The two students used an agile approach, working on screens for the app and demoing their progress to St. Joseph the Worker every two weeks. 
Using design tools like AdobeXD and Figma, they created the wireframes for the app. Together, they worked on designing flows that included the login page, resume builder, scheduling for interviews, accessing on-demand workshops and more, establishing the various integrations and functions the app could offer. When designing the interface, Exar and Vue incorporated the Teen Workforce Initiative's existing brand identity to create a fun and approachable look.
For Exar, the experience of working on this app was a rewarding one – it was about building an experience he wished he had not long ago. "It's easier when people have a clear vision for what they want the app to be – and St. Joseph did," said Exar. 
Taking the ideas surfaced during the innovation workshop, the teams prioritized making the app as interactive as possible. Using a well-established tactic of gamification to increase engagement, the team worked to create a game-like experience with points gained for each action that takes place. As teens accumulate these points, they can earn gift cards that can be redeemed for food, entertainment, beauty and sports, all for a "job" well done.
In addition to creating the front-end of the app, Exar and Vue also developed back-end pages, like an admin dashboard, to help employers add and delete jobs and resources, as well as view reporting metrics.
Once the app was ready for implementation, Exar and Vue handed more than 150 screens off to Patagonian, the app development team, to convert their designs into a functional app. 
Opening access to job readiness for young adults in the community 
So far, the Teen Workforce Initiative has served 2,372 youth, conducted 99 workshops for 812 participants and helped to place 150 teens into the workforce. With the new mobile app, St. Joseph the Worker will be able to expand their reach even more broadly and for a longer part of the job readiness journey.
In addition to creating an app to help teens prepare for work and life, the Teen Workforce Initiative app also provided Exar and Vue with valuable work experience. This is key to ASU's mission to establish partnerships that fuel innovation and opportunity across the university and state. 
Jubleen Vilku, AWS Senior Program Manager at the CIC, was pleased with Exar and Vue's efforts on this collaboration with St. Joseph the Worker. "Sarah and Nilo did an amazing job putting this together. They had passion and drive," said Vilku. "They had to translate what's in the mind of the customer into a visual presentation and were thoughtful of who the customer is, what they want, articulated and unarticulated needs into the app."
The app officially launched on April 20, 2022 during a career fair at Metro Tech High School in Phoenix. It is now available for download in the Google Play app store. 
Learn more about the CIC's approach and collaborative work on the Teen Workforce Initiative at https://smartchallenges.asu.edu/challenges/teen-workforce-initiative 
---
Many thanks to the ASU students and CIC interns:
Nilo Exar is pursuing a master's at ASU's Herberger Institute for Design and the Arts. 
Sarah Vue an ASU graduate.