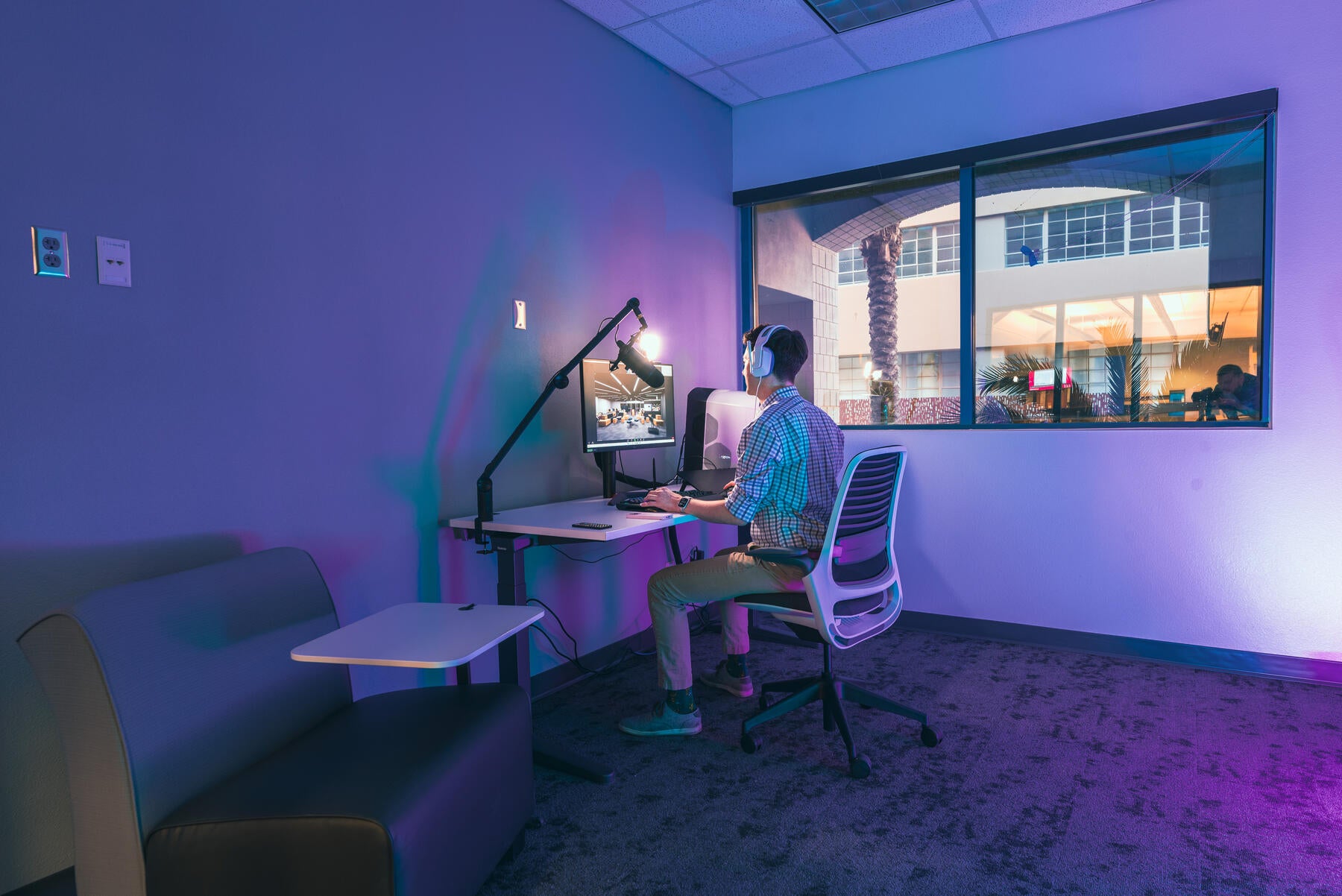 Zoom Innovation Lab at ASU fuels student-driven solutions
Building upon a longstanding relationship, ASU and Zoom Video Communications, Inc. today announced the Zoom Innovation Lab at ASU. And for students, it means new opportunities to work, learn and collaborate with industry leaders. 
"Innovation is more than creativity — it takes new forms of collaboration, along with a mindset of serving communities and a deep commitment to create real-world solutions. Through ASU's corporate partnerships, we are driving hands-on learning opportunities for students and developing a skilled workforce," said Sally C. Morton, executive vice president of ASU Knowledge Enterprise.
Innovation is more than creativity — it takes new forms of collaboration, along with a mindset of serving communities and a deep commitment to create real-world solutions.

Sally Morton, executive vice president of ASU Knowledge Enterprise
This new five-year strategic partnership will combine resources available across the ASU Public Enterprise — including the university's expertise, research, networks and learning assets — with Zoom's technology and talent to create solutions that better connect society. These connections will focus on improving access to world-class learning opportunities, telehealth and more. 
And ASU students will lead much of the development of the products, with guidance from Zoom technology partners. The Zoom Innovation Lab further adds to ASU's Corporate Innovation Labs' prestigious list of strategic partnerships that provide students with unique opportunities to learn from and upskill with industry leaders.
"Our very first customer was a higher education institution, initially fueling our commitment to creating the Classroom of the Future," said Eric Yuan, chief executive officer of Zoom, who was present at the launch event via Zoom. "Today, I'm proud to stand with ASU as we take that concept one step further and embark on the Campus of the Future," Yuan continued.
Projects powered by the Zoom Innovation Lab are already underway across ASU, including the development of a digital twin by ASU Enterprise Technology and a telehealth app from the Luminosity Lab.
Bringing Zoom in the metaverse
At its basic form, a digital twin is simply a virtual representation of a real-world physical system. However, as technology becomes more advanced, new opportunities have risen to leverage digital twins for real-time engagement and exploration.
The Learning Futures team at ASU Enterprise Technology is currently exploring such advancements, developing a digital twin they're calling the ASUniverse. Using real-time 3D, they are creating a 3D-model to simulate a virtual campus that is live, adaptive and changing its environment. 
ASUniverse can be for learning, extracurricular activities, campus tours, sporting events and more. For example, if a learner cannot be on campus, they can create an avatar and visit the ASUniverse via a web browser or with a VR headset to simulate the on-campus experience. 
And while it's understood how students can connect and learn with their peers in this metaverse space, the team is exploring how to further extend the digital experience with Zoom. 
This is the opportunity — in terms of innovation — to do this for the first time: to build what Zoom will look like in a digital twin in a metaverse.

Dan Munnerley, executive director at ASU Enterprise Technology
"No one really knows what the interface should be because it hasn't been done yet," said Munnerley. "This is the opportunity — in terms of innovation — to do this for the first time: to build what Zoom will look like in a digital twin in a metaverse."
Student workers are collaborating with Zoom developers to integrate Zoom functionality into the digital twin. This means that beyond users engaging with each other's avatars in the digital space, the teams are contributing code that will allow a student's digital avatar to connect with a live-support agent using Zoom. 
Work is well underway to bring Zoom into the ASUniverse. And starting tomorrow, more than 125 ASU students across disciplines will convene in the Zoom Innovation Lab collaboration studio to contribute ideas and code to the project. 
Enhancing the doctor-patient virtual visit experience
Education isn't the only sector to continue exploring new ways to enhance communication and collaboration using Zoom. Healthcare saw a significant shift in the adoption of such tools to support telehealth options, spurred by the pandemic. 
Another example of the Zoom Innovation Lab at ASU fueling innovation reaches into the greater Phoenix community. Through a partnership with Phoenix Children's, ASU Luminosity Lab, housed within the Ira A. Fulton Schools of Engineering, is exploring a new telehealth app to support doctor-patient visits inside the hospital setting.
Developed by student industrial designers and software developers, the app aims to provide doctors with the ability to virtually connect with patients in the in-patient room setting.
"At the Luminosity Lab, we're focused on making projects happen. There's innovative thinking in our students saying, 'Let's explore new ways to bring these two partners [Zoom and Phoenix Children's] together,'" said Mark Naufel, executive director for Luminosity Lab.
Each patient room at Phoenix Children's has an Amazon Fire TV for entertainment. By equipping these TVs with a camera, doctors will be able to use the Zoom-enabled app to connect with patients and make their rounds virtually. The result: a seamless, hands-free interaction for the patient, as well as more efficient visits for hospital staff. The virtual experience is offered alongside in-person consultations to enhance the overall stay of a patient. 
The new app builds upon Phoenix Children's advanced use of telehealth systems for clinic visits over the past two and a half years. 
"There's a need and there's technology — and together, we can work to further bridge that gap," Naufel continued. 
New projects and possibilities on the horizon
"This new five-year strategic partnership will bring together Zoom's leadership in communications and collaboration technologies with ASU's unchallenged designation as the 'nation's most innovative university' for eight consecutive years," said Lev Gonick, chief information officer for the ASU Public Enterprise. 
At launch, this new partnership is already fueling the development of innovative solutions, including projects like the ASUniverse and the telehealth app. Much of the work will take place inside the Zoom Collaboration Studio, which opened today at the Creativity Commons on the Tempe campus.
Here, students from across all academic disciplines can collaborate in the space, which includes a green-screen room and recording studios, all equipped with Zoom-enabled technology.
"We are proud and excited to collaborate with Zoom on this first-of-its-kind Innovation Lab. New solutions will be developed here that will make an impact on how people communicate, connect, live and learn," said Grace O'Sullivan, vice president of corporate engagement with ASU Knowledge Enterprise.
Additional follow-up projects and iterations are currently underway thanks to the expanding partnership between Zoom and ASU. Projects include enhanced classroom and distance learning solutions, smart stadium experiences and more. 
The partnership will also lead to the development of a talent pipeline between ASU and Zoom for students to gain access to internships, job opportunities and career development. These opportunities align with ASU's mission to help create the next generation of leaders.
Written by Stephanie King. For media inquiries, please contact Annie Davis, annie.davis.1@asu.edu.
The ET News Room