Sun Corridor Network Project Plans Broadband Access along I-40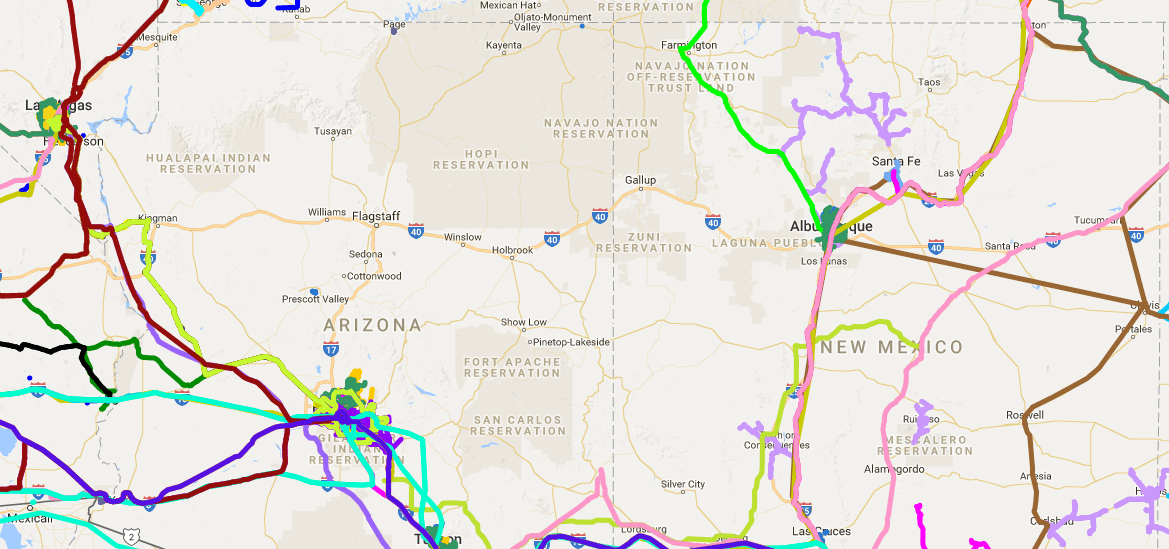 Fiber optic infrastructure enables high-speed connections vital to education, research, medicine, commerce and economic vitality. Communities lacking adequate connectivity - particularly underserved rural and tribal communities and institutions - are at significant disadvantage economically and socially.
Unfortunately, a significant part of northern Arizona falls into a "fiber desert." A fiber desert is an area lacking the fiber optic or broadband availability and capacity necessary to thrive in today's economy and society. This inhibits the education, innovation and research opportunities of higher education institutions, impedes K-12 student preparation, thwarts government services, and constrains economic development. This problem is particularly acute among tribal communities, many of which lack even the most basic forms of communications we take for granted.
Currently, major east-west paths and north-south "long haul" high capacity fiber routes run through Sunnyvale, Salt Lake City, Denver, El Paso, Phoenix, and Los Angeles, bypassing northern Arizona and New Mexico.  
To address this market failure, the Sun Corridor Network's Interstate 40 Initiative proposes a unique, multi-state regional approach - involving public and private organizations - to plan, build, and operate an ultra-high speed, "future proofed" interstate fiber network. This network will generally run along the I-40 freeway corridor linking Albuquerque, Flagstaff, Las Vegas and Southern California, providing on-ramps to the many communities and tribal nations along that route.
The initial phase of this project culminated in a remarkable gathering last month in Flagstaff of about 100 stakeholders representing four states, seven tribes (Arizona, California, Nevada and New Mexico) and diverse interests, organizations and institutions including federal, state, and local governments, K-12 institutions, health care organizations, community colleges, private sector service providers of all sizes, trade groups, higher education institutions, and tribal colleges and government, among others.
"The breadth and depth of the stakeholder representation was exceptional as was the interest level and commitment to solving this regional problem", said Michael Sherman, Sun Corridor Network Executive Director.
These collaborators heard and discussed research conducted by the Sun Corridor Network's consultant describing the depth and breadth of need and opportunity for this ambitious network, including the proposed network design and characteristics.
Given the strong support for this endeavor, the Sun Corridor Network and key collaborators will continue planning and developing fund and support for the Initiative.
More than 20 collaborators have come together to discuss reconciliation of the issues and plan for the future of improved connectivity:
Arizona Sun Corridor Network

Arizona State University

University of Arizona

Northern Arizona University

University of Nevada-Reno

Internet2

Corporation for Educational Initiatives in California (CENIC)

Navajo Technical University

Navajo Nation

Navajo Telecommunication and Utility Authority (NTUA)

City of Albuquerque, New Mexico

Albuquerque Gigapop (University of New Mexico)

City of Flagstaff, Arizona

City of Gallup, New Mexico

City of Holbrook, Arizona

City of Winslow, Arizona

City of Kingman, Arizona

State of New Mexico

State of Arizona

State of Arizona, Department of Commerce

Navajo County, Arizona

Coconino County, Arizona

Arizona HealthCare

Zayo Group

Cox Communications

CableOne

Plateau Telecommunications

Frontier Communications

Sacred Winds Communications

Plateau Telecommunications

World Wide Technologies Inc.

Mozilla Foundation
The Sun Corridor Network, an important resource for education and research in Arizona that provides high-speed, reliable network connectivity while creating opportunities for collaboration, information sharing, and efficiency among its subscribers.
Sun Corridor Network is a collaborative effort sponsored by the Arizona Board of Regents' (ABOR) three state universities – Arizona State University (ASU), Northern Arizona University (NAU), and the University of Arizona (UA) – to share digital communications resources, network services, and applications among eligible subscribers.
As a member of Internet2, the Sun Corridor Network taps into an ultra-high speed nationwide network consisting of more than 200 research universities, undergraduate institutions, K-12 schools, libraries, museums, and science centers for research and educational purposes.
Make sure to follow UTO on Twitter @ASU_UTO.