Wish You Were Here: ASU Gets Immersive at Learning(Hu)Man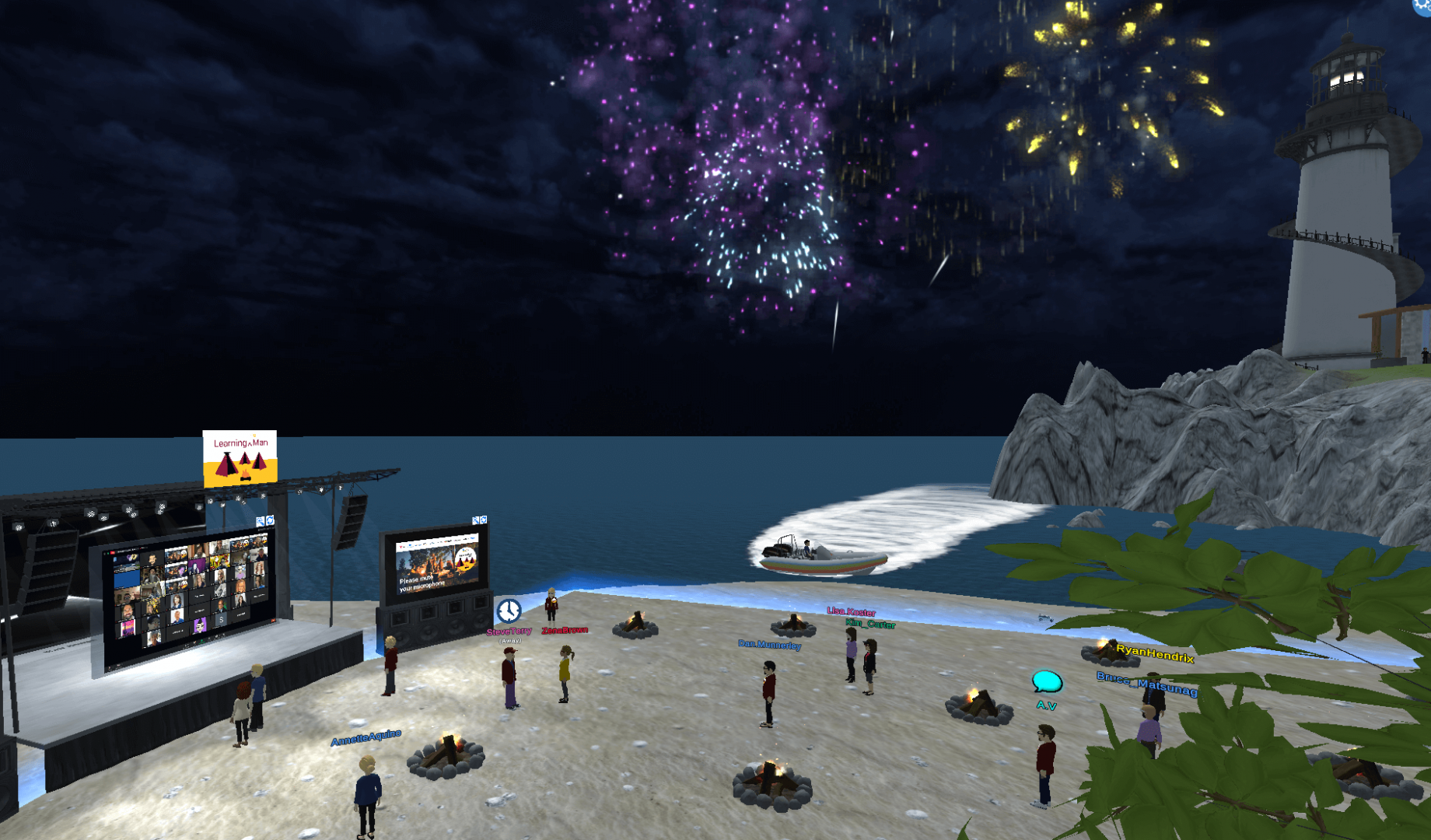 By Andrew Schneider
During the week of July 20-27, 2020, ASU and ShapingEDU hosted Learning(Hu)Man 2020, a camp-themed, global education changemaking event that came to life on an immersive campus through VirBELA.
Learning(Hu)Man was designed to bring people together to learn, connect and share ideas by means of interactive virtual platforms. Key to that design, of course, are the platforms in use. Enter VirBELA, a designer and builder of virtual worlds. Whatever the needs of the people in the immersive space—events, education, work—VirBELA constructs a world participants can enter with an avatar and explore, learn and collaborate with others.
VirBELA builds its worlds complete with everything participants will need, like buildings for larger gatherings and smaller meeting spaces for breakout groups. These elements combine with details such as trees, bodies of water, and even usable boats to create a world that's not only functional, but also engaging and fun.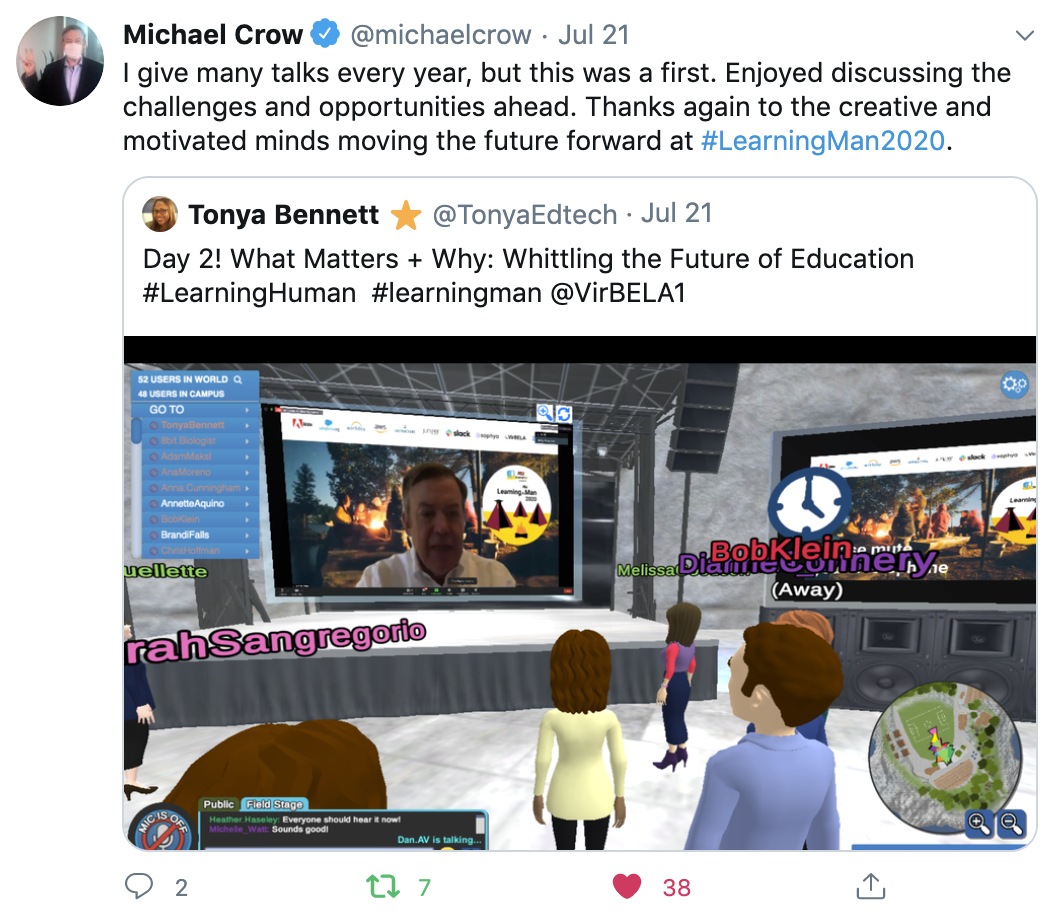 A VirBELA world—in this case, Learning(Hu)Man 2020's digital campus—operates in practice much like an open-world video game. Participants create an avatar they can tailor to fit their own likeness, after which the avatar drops into the digital space. Intuitive commands (mouse clicks or arrow keys to move about) allow users to control their avatar to walk, run or otherwise interact with the world, for instance by kicking a ball or driving the aforementioned boats.
This resemblance to video games isn't accidental, and it's part of what attracted the ASU team to VirBELA in the first place. "The trends and predictions we're seeing give us a glimpse as to what the future of learning looks like, and it's more like a game than a classroom," said Heather Haseley, Co-Executive Director and Lead Design Architect of the Learning Futures Collaboratory (LFC). This is important, because people teach and learn in many different ways—but none of them really works without first engaging the student.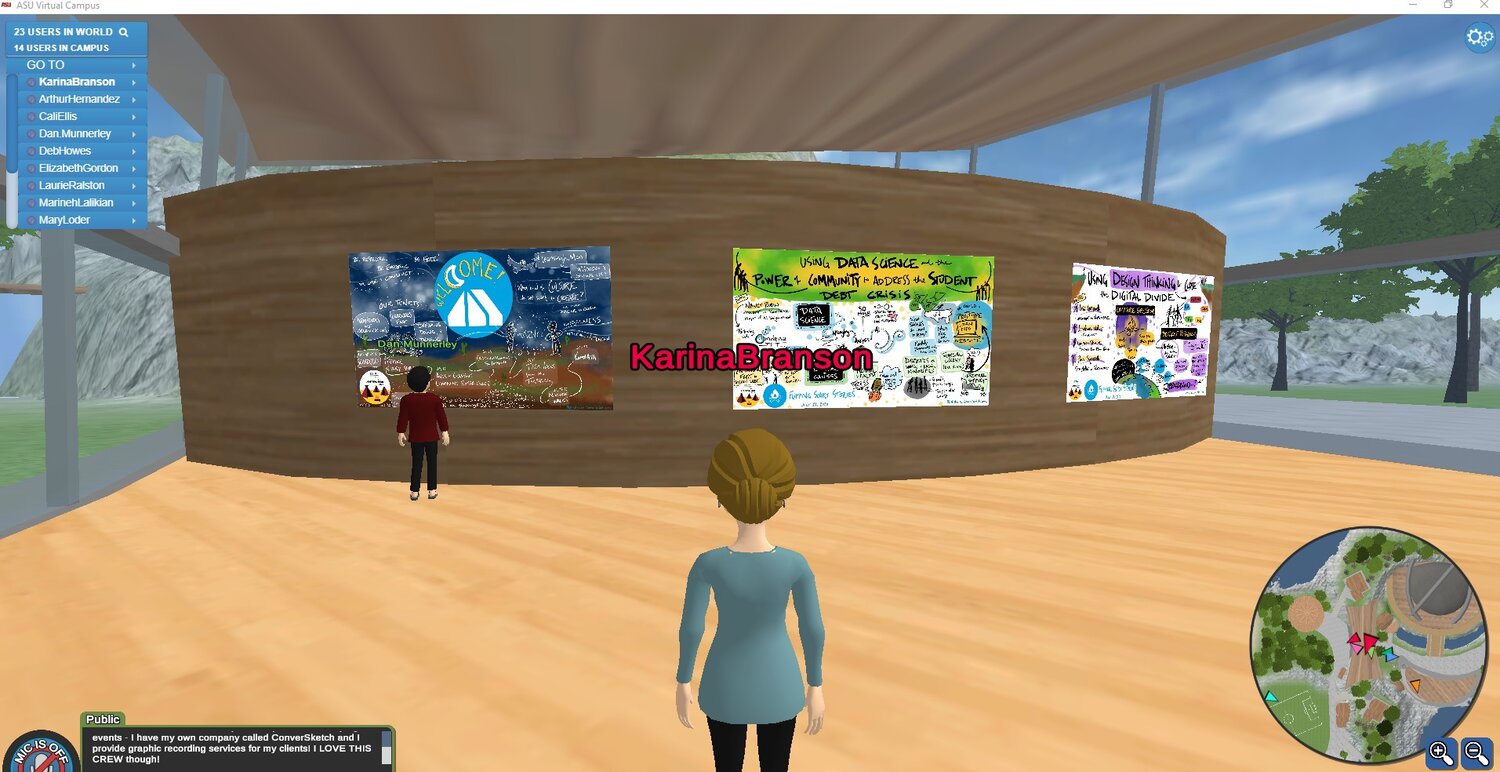 "One of the really wonderful things about VirBELA is the sense of agency. In a video call you have very little control or interaction, but an immersive world puts the user in the driver's seat," said Dan Munnerley, LFC's other Co-Director and Lead Design Architect. For example, users can go to a discussion about tech hacks in a conference room, but if one decides he's had enough, he can leave and go find another session nearby. But he can equally go chat by the campfire, or take part in a scavenger hunt or race around campus.
The campers themselves felt that agency and engagement. "After a session, it was very cool to sit at the beach with a friend and be able to hear one another without other people being able to listen in. It was very real," said Lisa Koster, a Learning(Hu)Man 2020 participant who is a professor of business and math at Conestoga College in Ontario.
VirBELA also gave users suffering from quarantine fatigue the opportunity to feel they were not so isolated. "The virtual campus gave me the feeling of being social and with human beings. It was a huge relief after months of quarantine, and I made the same choices I would make if I had been there in person," said Zena Brown, an educational technology specialist at Kennesaw State University.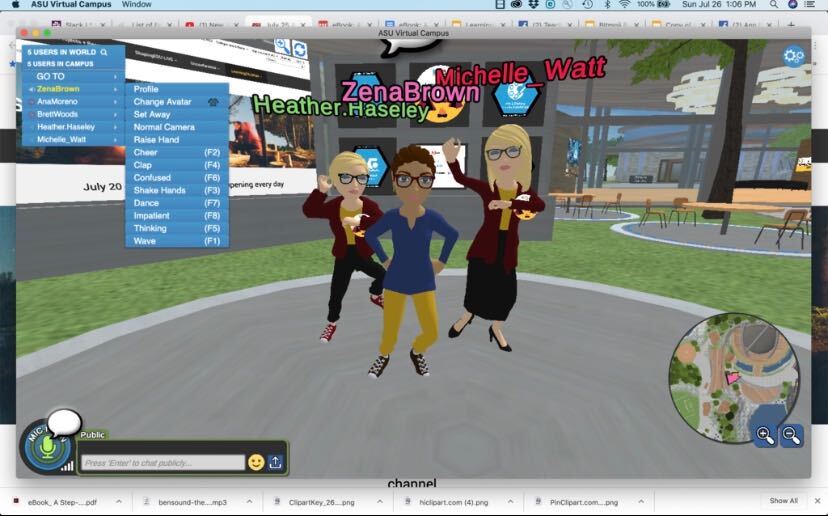 And the timeliness of the event was not lost on the team at VirBELA, either. "Community and connection are two things everyone has been craving this summer, so when ASU presented an opportunity to work with them on a virtual summer camp, we were immediately on board," said Marko Stankovic, VirBELA's VP of marketing.
The team was similarly thrilled with how its platform was being used in a new and educational way. "The fact that ASU is hosting a full summit on VirBELA, with hikes and scavenger hunts, is amazing and astounding to me. We created this as a new way to work, but these creative people have taught me that VirBELA is so much more than that," said Dr. Alex Howland, VirBELA's founder and CEO. Learning(Hu)Man was unlike any event VirBELA had hosted before, and it was clear that the team was excited to see what was on the horizon in the future.
A few of the sessions that took place at Learning(Hu)Man 2020 were available exclusively through VirBELA. Of course the daily tours and the scavenger hunt all over the digital campus were only available through VirBELA, but the same was true of some of the breakout sessions.
One such session was Exploring the Metaverse, a discussion of the technical, cultural and ethical issues surrounding a live, persistent, all-encompassing virtual world, as well as how—from a variety of perspectives—panelists are bringing the Metaverse from an idea out of science fiction to the real world's incredible future. Another was The State of Virtual Reality, a guided hike through the cutting edge games, educational experiences, and industry applications in the market now, as well as what the future has in store.
Not to neglect the significance of VirBELA's contribution to personal interaction in the midst of a pandemic, one VirBELA exclusive was Building and Humanizing Connections in a Virtual World. This particularly topical session introduced how the Stanford Graduate School of Business has been leveraging virtual worlds to engage a global community of learners in the Stanford LEAD online business program. Presenters discussed how LEAD uses a virtual world to connect learners with the school's campus culture, with their community of peers, and with simulated learning activities, and to dive into a discussion about how virtual worlds can be used to solve some of the inherent challenges with online programs.
The success of Learning(Hu)Man and its use of VirBELA is a telling moment. It shows us that virtual conferences—when they're done right, with a beautifully and thoughtfully crafted, immersive environment—can be just as viable as those that happen in the physical world. And this was just the first example. With the feedback that's already coming in from Learning(Hu)Man 2020's more than 2600 registrants, future ShapingEDU events are sure to be even better.