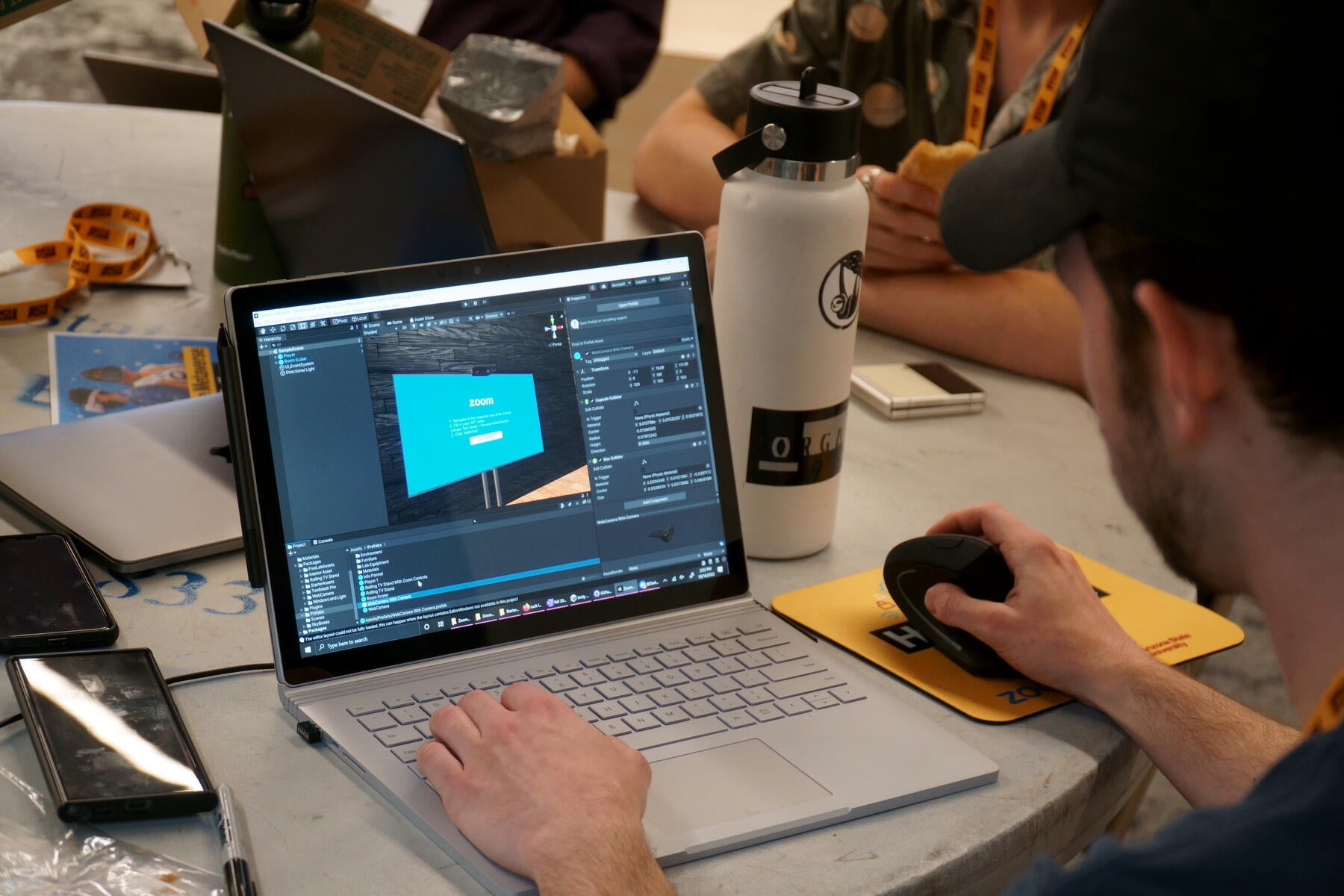 ASU students explore Zoom in the metaverse
Learners teaching learners. It's a short, yet powerful statement that the teams at Learning Futures, part of Enterprise Technology at ASU, put into practice daily. 
In fact, the team's space in the Creativity Commons on ASU's Tempe campus is dedicated to exploring learning experiences three to five years into the future – with ASU students leading the development of such solutions. 
"It's powerful for students to develop solutions for their generation and generations to come," said Olivia Hernández, creative manager for Learning Futures.  
That's exactly what seven teams set out to do when they formed their groups at the ASU student hackathon on October 14, following the launch of the first-ever Zoom Innovation Lab at ASU. The five-year strategic partnership will combine resources available across the ASU Public Enterprise – including the university's expertise, research, networks, and learning assets – with Zoom's technology and talent to create solutions that better connect society. 
"Exploring the art of the possible through technology and innovation was the objective of the hackathon," said Liliana Ramirez, product marketing manager, Zoom. "Providing the students the environment to do this using the solutions and resources from the Zoom Developer Platform will continue to develop their technical skillset and knowledge of what's possible with Zoom's industry-leading technology," Ramirez continued. 
The hackathon was a catalyst for deep and exploratory thinking about how to bring Zoom into the metaverse. "In order to ensure the students had the right resources to participate, our [Learning Futures] Studio Associates created custom tools to bring standard Zoom features – like calling, video conferencing, and meetings – directly from Unity Game Engine working," Hernández continued. 
Students then had one week to build out their ideas to present at the Closing Event, held virtually, on October 21.
Check out a demo of ZoomWorks in the video above, which was recorded at the Closing Ceremony for the Zoom in the Metaverse hackathon, which took place from October 14-21, 2022.  
Combining real and virtual worlds
Simply defined, the metaverse is a 3D virtual world focused on social connection. 
The students' ideas for bringing Zoom into the metaverse spanned far beyond traditional learning systems. While some groups considered how learning can transform using Zoom technology, others stepped outside of the box to develop apps based on topics important in everyday life. Personal therapy sessions using avatars, a platform that creates a virtual reality (VR) environment for telehealth visits, metaverse campus visits — these were just some of the ideas explored during the hackathon.
Two projects emerged to earn the highest marks from the judges: the first was Team ZoomWorks, which created an extension of the Zoom Meeting rooms functionality to offer a 3D virtual collaborative space for businesses and educators. 
Team presenter Neel Madhav, ASU student and Unity developer on the project, explained that 74% of respondents in a recent survey said they missed the community feeling and mentoring that are part of an office environment (CNBC). With remote options for work and learning increasing, the ZoomWorks team searched to figure out how to better preserve the social and emotional benefits of the office in an online working environment. 
"ZoomWorks is designed as a utility for Zoom Meetings," said Madhav. "The extension aims to redefine and situate the ecosystem of remote work in the metaverse by bringing in elements of social interaction and collaboration."
In ZoomWorks, employees and students can set up customizable virtual workspaces – individual Zoom Meeting rooms streamed all in one place – to collaborate together and have more agency in the metaverse.
Fostering deeper connections online was also the central theme for the second-place team, who presented their app idea called GameSnap3D. Devarshan Patel, a junior double-majoring at ASU, was part of the team behind the game development tool. "GameSnap3D encourages Zoom users' to incorporate game breaks into meeting times," said Patel. "From ice breakers to a simple, yet interactive game of tic-tac-toe, the game tool kit offers 2D and 3D integration." 
What's next
Having these hands-on, immersive experiences with top talent is just another benefit of ASU's partnership with Zoom. "Our partnership with Zoom speaks authentically to our mission: to advance the dynamic digital ecosystem that drives how the ASU community learns, works and thrives," said Dan Munnerley, executive director for Learning Futures. 
In just six years, Generation Alpha — the generation to follow Gen Z — will start enrolling in ASU. Who better to imagine and build the future of learning than those who've gone before them? "It's exciting to think that the projects we are starting now will influence the education of the next generation," Munnerley continued. "Together, we are exploring and experimenting to create a future of learning that is more inclusive, equitable and accessible for all lifelong learners." 
Many thanks to the mentors and judges for dedicating their time and experience to explore what Zoom could look like in the metaverse:
Meet the Judges:
Eusebio Scornovacca, interim director and professor of innovation policy, School for the Future of Innovation in Society, ASU

Michael Purnell, manager, Partner Engineering, Zoom

Tain Barzso, group product manager for education, Zoom

Andy Carluccio, events engineering manager, Zoom
Additional thanks to the teams at ASU, as well as Zoom for funding and supporting the student hackathon:
Liliana Ramirez, developer tools and resources, product marketing manager, Zoom

Dan Munnerley, executive director at ASU Enterprise Technology

Olivia Hernandez, creative manager at ASU's Learning Futures Collaboratory

Heather Haseley, senior director, Enterprise Technology Partnerships and Development

Toby Vaughn Kidd, director of ASU's Learning Futures Studio

 Bea Rodriguez-Fransen, director of ASU's Learning Futures Collaboratory
Learn more about the partnership between ASU and Zoom.