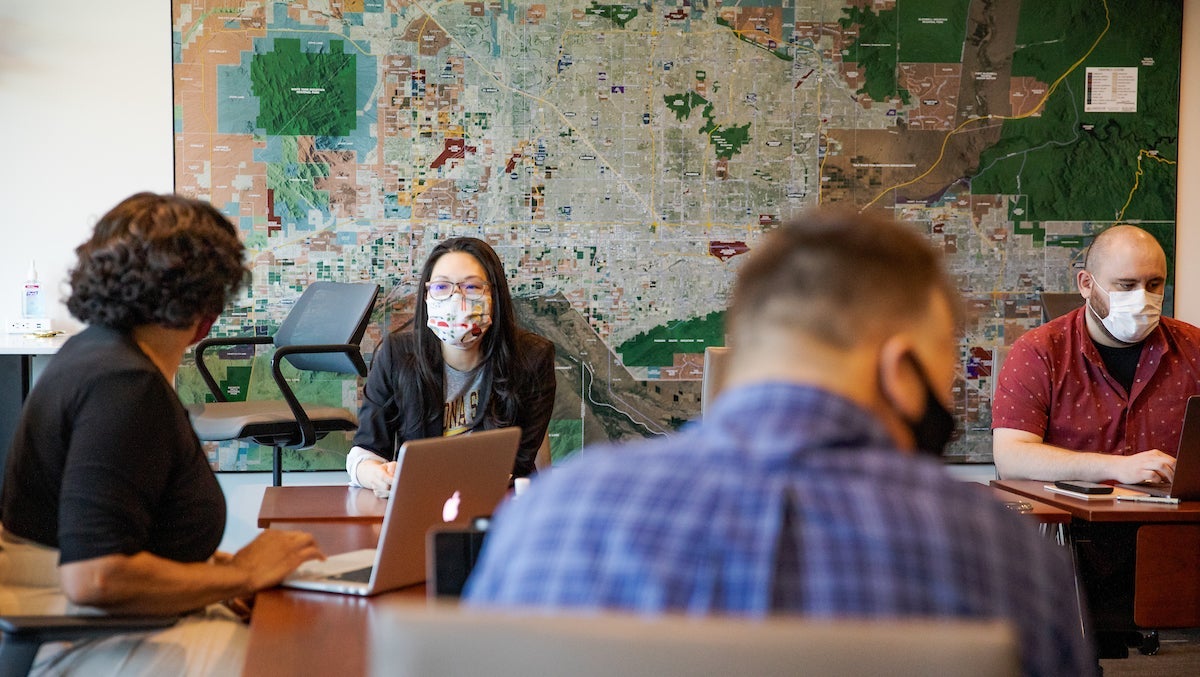 As we're experiencing a new remote/hybrid world, the notion of community is more important than ever before. Connect around shared affinities by joining any or all of these Enterprise Technology-public (and sometimes ASU-public!) Slack channels.
#asu-it-community
What events are coming up? How can we collaborate? Participate in a social channel meant for IT professionals and enthusiats across ASU. 
#asu-women-in-tech
Hundreds of women in IT from around the university and growing by the day! We share women-centered opportunities and challenges with authentic discussions.
#culture-weavers
Join the official channel for the UTO Culture Weavers -- stewards of shaping UTO culture towards our Positive Core.
#bingeworthy-tv
Does Netflix keep asking you if you're "still there?" and you're all "DUH, of course I am?" Share what you can't stop streaming and get recommendations for what you should obsess over next.
#give-back-2-community
UTO encourages staff to participate in group volunteering activities and all ideas are welcome, and this Slack channel as a simple way to share ideas. UTO offers four (4) hours of team-building volunteer time per quarter with pay.
#green-uto
Help create and promote the environmentally conscious initiatives at Enterprise Technology.
#leadership-thought-of-the-day
Explore important topics around leadership in the form of daily artictles, research reports, videos, podcasts and more so we can continually evolve our practices and stay curious doing so.
#meme-or-gif-of-the-day
A picture may say a thousand words, but a meme already has words on it, so... share your favorite ones, daily. Keep it appropriate though, please and thanks, otherwise you may get RickRoll'd.
#quote-of-the-day
Start your day with wisdom from substantial voices in history, tech, pop culture and beyond -- in the form of a quick and inspirational quote.

#remote-working-live-parenting
Share stories about your favorite little Zoom crashers and what it means to be a parent in the pandemic, balancing parenthood and work.
#silver-linings-playbook
Whether you're in an eternal optimist or could use a healthy dose of positivity, this channel surfaces all the silver linings that have emerged from the pandemic. Share yours!
#slack-hacks
For all to share Slack tips & tricks.
#usb-uto-staff
Communications to Enterprise Technology staff within the University Services Building (for when we return!).
#uto-celebrations
With callouts through Certificates of Appreciation and Sun Awards, Enterprise Technology shares the good news in their and their coworkers' lives to really celebrate each other!
#uto-comms-ambassadors
Into storytelling and amplifying the work of your team? Mold an initial idea into a full-fledged Enterprise Technology newsroom editorial. Get handy communications and writing tips.
#uto-connections
This is a general Enterprise Technology family channel for sharing everything from where to get the best tacos in the Phoenix metro area to how people are giving back during complex times.
#uto-pets
Say hello to our little furry friends and co-workers! (Can Spot please send us the latest .jpg though?!)